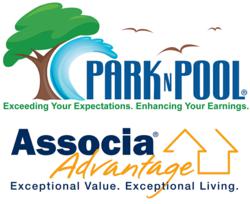 We feel fortunate to have the opportunity to partner with the largest association management company in North America.
Lexington, VA (PRWEB) May 25, 2012
ParknPool is proud to announce a partnership with Associa®, North America's largest community management services firm. The leading online distributer of commercial grade pool furniture, park benches, playgrounds, picnic tables and much more, formed a partnership with Associa Advantage® in early March to become a trade partner in the international Associa Advantage® network.
Associa® began in Dallas, Texas more than 30 years ago as a single association management firm, and over the years has grown to include 150 offices across the United States, Mexico, and Canada. Associa® offers its property owners an incredible value added service through the Associa Advantage® network. Associa Advantage® leverages the purchasing power of Associa's® two million homeowners to provide exclusive discounts, of up to 65 percent, on a variety of products and services for households and the properties themselves. From paint to pest control, carpet to cabinets, and garage doors to gutters, the Associa Advantage® Network provides Associa properties with licensed, certified and insured trade partners who can save them time and money. ParknPool works closely with the community managers to provide them with everything from indoor dining furniture for the club house, or umbrellas and chaise lounges for the pool deck, to basketball hoops and volleyball nets for recreational areas.
ParknPool joined the Associa Advantage® Network in early April of this year, and has already generated a significant number of sales from Associa Advantage® members. John Good, General Manager of ParknPool states, "Since finalizing the agreement with Associa® in April, the number of sales to Associa® members has exceeded our expectations, and we feel sure this trend will continue for the rest of the year and beyond. We feel fortunate to have the opportunity to partner with the largest association management company in North America."
Both companies are excited about this new partnership and eager to see the inevitable growth. ParknPool Marketing Manager Laura Dudley explains, "The management and staff of Associa Advantage are talented, professional and highly committed to making this new partnership a huge success for everyone involved."
About ParknPool Corporation:
ParknPool is a Veteran Owned SBE/WBE Company and is the leading online supplier of commercial grade furniture and site amenities such as picnic tables, trash receptacles, park benches, bleachers and restaurant furniture. ParknPool was begun in 1998 in Orlando, FL and moved their headquarters to Lexington, VA in 2005. For more information about ParknPool, visit http://www.parknpool.com and find them on Facebook, and YouTube
About Associa®:
Building successful communities for more than 30 years, Associa® is North America's largest community association management firm and serves its clients with local knowledge, national resources and comprehensive expertise. Based in Dallas, Associa® and its 8,000 employees operate more than 150 branch offices in the United States, Mexico and Canada. To learn more about Associa and its charitable organization, Associa Cares®, go to http://www.associaonline.com and http://www.associacares.com. Find them on Facebook, follow them on Twitter, and watch them on YouTube.