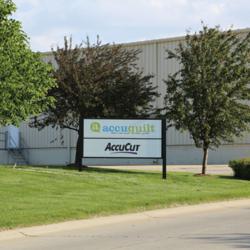 This new facility makes it possible for us to explore new ways to support the tradition of quilting through product and marketing innovations, it also allows us to share our love of quilting with others. —Steve Nabity, AccuQuilt CEO
Omaha, NE (PRWEB) May 29, 2012
In June, the staff of AccuQuilt, international distributor of fabric cutting solutions for quilting and fabric crafts, will pack up offices, equipment and supplies for a historic move to a new headquarters building just 30 miles away in Omaha at 137th and Giles (near Cabela's®, off Interstate 80). The new building includes state-of-the-art warehousing facilities, as well as amenities for quilters to support and promote the advancement of quilting. The company's roots go back more than three decades, when it began as a contract manufacturer known as Phoenix Manufacturing.
"Our move to Omaha is a direct result of the strength of quilting as an American tradition, as well as the resurgence of quilting that has become possible due to new cutting technologies," said Steve Nabity, AccuQuilt Chief Energizing Officer. "This new facility not only makes it possible for us to explore new ways to support the tradition of quilting through product and marketing innovations, it also allows us to share our love of quilting with others."
In addition to the office and warehouse facility where AccuQuilt GO!®, GO! Baby® and Studio™ Fabric Cutters are shipped across the U.S. and internationally, the new headquarters building contains a quilt gallery to show off traveling quilt collections. It also includes a state-of-the-art quilting studio, where quilters will be invited to tour and attend classes. The building even has a coffee bar to entertain guests. It is located just 40 miles from the International Quilt Study Center & Museum in Lincoln, Nebraska.
After a one-day hiatus in services to accommodate the move, staff will be in place and ready to work in the new AccuQuilt headquarters building the first part of June. To celebrate the opening of the new headquarters, quilters from every corner of the U.S. and internationally will join AccuQuilt staff on June 22nd to see the unveiling of the winning design in the AccuQuilt Barn Quilt Design Contest. Find more info at http://www.accuquilt.com/barnquilt.html. Two quilting retreats will be held in conjunction with the grand opening and barn quilt raising, one before and one after the celebration. Quilters can get registration information at http://www.accuquilt.com/retreats-2012-ct. The celebration and retreats are being held in conjunction with the Omaha Quilt Show, which will be taking place at the same time just down the street from the AccuQuilt headquarters building.
"We've been in Fremont a long time, and it will be a bittersweet move to Omaha," said Nabity. "We love the people of Fremont, and many of them have worked for us at one time or another. Thank you to this amazing town for supporting our enterprises. We wish our friends here all the best and encourage them to not be strangers. We are only a few miles down the road, and everyone is welcome to come visit us in Omaha and attend the Unveiling Event on June 22. It's not really goodbye to Fremont. It's so long till your next visit to AccuQuilt in Omaha!"
AccuQuilt® GO! Baby® Fabric Cutter and GO!® Fabric Cutter, are available at local quilt and fabric retailers. Quilters also can purchase GO! fabric cutters and dies, along with the Studio™ Fabric Cutter, GO! die adapters, and hundreds of Studio™ quilting dies, by visiting http://www.accuquilt.com or calling 888.258.7913.
ABOUT ACCUQUILT
Headquartered in Omaha, Neb., AccuQuilt offers quilters, fabric crafters and retailers a premiere line of fabric cutters, dies, quilting patterns and other quilt and fabric cutting solutions that help quilters quickly and accurately cut shapes for quilting and fabric crafts. AccuQuilt also offers quilters a wide variety of rich educational resources to enhance their quilting experiences. Cutting with AccuQuilt® cutters is a natural evolution of fabric cutting methods. "First scissors…then rotary…finally…AccuQuilt®" for fast, easy, accurate fabric cutting. Visit AccuQuilt online at http://www.accuquilt.com