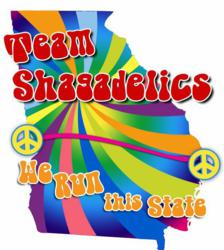 Columbus, GA (PRWEB) May 27, 2012
While most people will be enjoying the first official weekend of summer with backyard barbecues and pool parties, Waddell Realty's own, Kim Mixon, will be running 260 miles from Columbus to Savannah. Kim, a Licensed Realtor in GA & AL, started running in Junior High School for fitness and in 2002 completed her first marathon. In her third year running on a team, she leads "Team Shagadelics", an 8 person relay team, as their captain.
Founded in 2000, the House of Heroes is a nonprofit organization serving our nation's military and public safety veterans and their spouses who are disabled, living on a fixed income, or facing other physical and financial challenges. Volunteers in the area perform minor repairs and make improvements to the homes of veterans and their spouses – at no cost to the veteran – through the generosity of individuals, civic organizations, and corporations. The mission of House of Heroes, Inc. is to recognize and honor military and public safety veterans and/or their spouses who have served our country faithfully and sacrificially.
In 2011, Run for the Heroes raised $88,500 that funded additions to homes including wheelchair ramps, installation of handicap fixtures, gutter repairs, painting, cleaning, yard work and general home improvements for 34 homeowners. And as of Thursday May 24, 2012, the HOH had raised $62,040 and Team Shagadelics is in the lead with $7,497! Kim and her teammates will start running at 4am Saturday morning from the Infantry Museum on Fort Benning and head across Georgia to Savannah in less than 40 hours. Each runner on the team will run times for an average distance of approximately 32 miles. This year's run will be especially difficult considering temperatures are predicted to reach highs of 97 degrees!
We are proud of you and your team mates Kim!