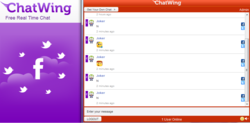 Houston, TX (PRWEB) May 28, 2012
Based on the bulk of reviews from the Internet, 9gag is considered as one of the best online humor sites today. Lately, these users are hanging out in an online chat widget known as Chatwing. These users have preferred Chatwing because of its communication potential and trendy online features.
The Chatwing development team has worked hard to make their shout box efficient communication leverage for everyone. They combined the elements of simplicity and versatility in order to achieve the best results. "Here in Chatwing, we believe that online communication is really important. Information travels super fast in the cyberspace. A minute of delay can be crucial. So, we built Chatwing in a straightforward platform, ensuring that it is versatile so people in different online communities can use it easily," Says Ivan Diamond, one of Chatwing's developers and researchers.
For bloggers who have used Chatwing during its early release, the web chat tool is a blessing in terms of online visibility. These bloggers have noticed that Chatwing have raised their online presence by more than fifty percent. The percentage varies, but it improves whenever the blogger includes better and interesting content. Chatwing does this by turning an inactive blog into an active chatting lounge where guests and visitors can discuss a multitude of topics.
Chatwing's chatrooms latest version is also faster and can accommodate up to 600 active chatters. In this way, a guest will be able to make many connections within a specified time. Adding to that, guests and visitors can also use the shoutbox to promote their businesses or advocacies.
About Chatwing.com
Chatwing.com has developed live chat software for websites and blogs. It caters to different online communities due to its high rate of connectivity. Everyone can create a customizable live chat feature in 1 minute or less. Users have the ability to customize the size, color, and fonts of the chat product. The ability to chat live via social media accounts such as Facebook and Twitter enable Chatwing to offer a personal and unique real-time experience to all sites. Chatwing is 100% free and very easy to use.