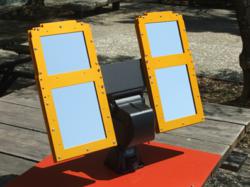 Multi-Tech had an immediate solution for us. -John Vallerga, Berkeley scientist and manager of the Solar Beacon project
(PRWEB) May 26, 2012
Multi-Tech Systems is enabling an M2M (machine-to-machine) communications solution for the Solar Beacon project as part of the 75th anniversary celebration of the Golden Gate Bridge in San Francisco. On Sunday, May 27, and the months that follow, two points of light - one on each of the bridge's tower tops - will be visible to observers. Multi-Tech enabled 3G cellular communication for the two motor-operated heliostats installed on the peaks of the towers of the bridge. The heliostat devices use mirrors that move to track and reflect the sunlight.
The Solar Beacon project is a collaboration between artist Liliane Lijn and scientist John Vallerga, and has been designed and constructed by volunteers from the Space Sciences Laboratory (SSL), U.C. Berkeley. The team worked with Multi-Tech Field Application Engineer, Steve Kovarik, to install two MultiModem® rCell intelligent wireless routers into the solution.
"We needed an intelligent cellular communication device that could send instructions to the heliostat. Multi-Tech had an immediate solution for us," said John Vallerga, an astrophysicist at Space Sciences Laboratory who manages the overall Solar Beacon project. "Plus, it was a cost-effective solution with great support so all-in-all it didn't require much effort from my team at Berkeley."
From the ground, through smart phones or internet connection, the team is able to send instructions to the heliostat through the modems – to actually move the motors to the appropriate angle to create the desired lighting effect, and to remotely monitor, manage and even configure the modems as well. The Solar Beacon team had little experience with modem communications, so Kovarik recommended a MultiModem rCell intelligent router so it would work right out of the box.
"I have a thing for bridges so it was fun to be involved with the anniversary celebration of the most photographed bridge in the world," said Kovarik, a 28-year employee of Multi-Tech Systems.
The Solar Beacon project will soon offer a schedule for when a person can see the lights, which depends on the angle of the sun and the observer's location, at http://www.solarbeacon.org.
About Multi-Tech Systems
Multi-Tech Systems has been delivering industry-leading M2M (machine-to-machine) communications solutions since 1970. With more than 20 million devices deployed worldwide, Multi-Tech focuses on helping customers achieve the shortest path to M2M connectivity – from concept to implementation. Whether a project is simple or very complex, Multi-Tech has the resources and expertise to work with any development team to customize a hardware or software solution that maximizes speed to market and return on investment. With carrier-approved external and embedded modems and gateways, Multi-Tech makes it easy and fast to connect your device to networks anywhere in the world. We offer cellular, analog, Wi-Fi®, Bluetooth® and GPS capabilities with customer solutions in many vertical markets, including healthcare, energy, financial and transportation. Follow us on Twitter: http://www.twitter.com/MultiTechSys.