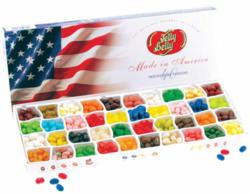 Elma, New York (PRWEB) May 26, 2012
Jelly Belly and the Made In America Store brings 3 oz. bags and a few gift boxes of 100% American made jelly beans to their store. The all US made products store is known for carrying products ranging from food to clothing, to consumers looking for American made items.
The Made In America Store brings six different bags of 3 oz. Jelly Belly jelly beans and two different gift boxes of 10 flavors and 40 flavors. The 3 oz. bags come in a variety of different "Themed" bags including Assorted, Fruit Bowl, Sour, Kid's Mix and Tropical. Both gift boxes have the "American Theme".
Consumers interested in the full line of 100% American made jelly beans from Jelly Belly can visit http://www.MadeInAmericaStore.com or call 716-652-4872 to place an order.
Jelly Belly started in 1976, when a Los Angeles candy dealer decided to start manufacturing jelly beans with all natural flavors. Roots for the Jelly Belly date back before the 19th century! In 1869, just after two years of arriving to America from Germany, a man name Gustav Goelitz bought a candy and ice cream store in Belleville, Illinois. Gustav and his brother took their horse and wagon to nearby communities to sell candy.
Gustav's family business then grew to bigger better things when the second generation took over the business. The new innovations brought about "buttercream" candies and candy corn, which has been made since the 1900's. The new candies carried the family through The Great Depression and both World Wars and the business is still in the same family, leading to where the company is today.
Creating "true-to-life" flavors was a natural evolution. In 1976 the first eight Jelly Belly flavors were born: Very Cherry, Lemon, Cream Soda, Tangerine, Green Apple, Root Beer, Grape and Licorice. Funny enough they are still some of the most popular flavors made today.
The Made In America Store is located at 900 Maple Road in Elma, New York and is committed to selling 100% American manufactured products. You can visit http://www.MadeInAmericaStore.com for more information or shop our catalog of over 3,500 products from over 290 vendors that are devoted to producing USA made products. All US military personnel, both active duty and veterans, receive a discount every day. Consumers can also keep up to date news articles, events, photos and contests with Facebook, Twitter, Google+, Pinterest and Tumblr!