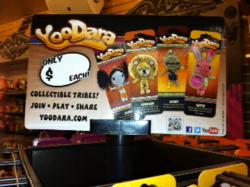 This offering from Dimension 9 is so collectible due to numerous unique product attributes.
Prescott, AZ (PRWEB) May 29, 2012
YooDara Good Luck Charms are a dynamic line of 36 string characters, each with a name and positive message. There are four different tribes that make up the YooDara line. The nine members within each tribe all share a common, enthusiastic sentiment: Good Luck, Power, Protection, or Wisdom. For example, Zero of the Protection Tribe "Protects you from things that go bump in the night" while Lotto of the Good Luck Tribe "Brings you 4 times the luck of a rabbit's foot in games of chance". Research shows that collectors are buying more than one characters while at the retailers' registers in order to own all 36. YooDara fans proudly display their lucky charms on backpacks, key rings, and rear-view mirrors.
As mentioned on the Welcome Home YooDara Good Luck Charms video, this offering from Dimension 9 is so collectible due to numerous unique product attributes. On the back of each package, fans will discover a removable disc that displays the character's name and special power. This disc is easily attachable to the charm's ball-chain feature; therefore, the positive message and character's identity is never lost once the packaging is discarded. Also located on the back of the package is the Dimension 9 seal of authenticity. This ensures the loyal customer base that they are purchasing a true member of the YooDara line.
The bright, attractive YooDara packaging also assists in prompting collectors to access the YooDara.com website. A QR code is printed prominently on the back of the card so that shoppers can instantly access the YooDara website with a smart phone device. If they do not have access to a smart phone, then users can visit the website directly on any PC via the YooDara.com URL. As members of the YooDara.com online community, collectors can register their purchases to access mini-games, activities, and information on their favorite characters.
As Overstreet explains to Rogers in the Welcome Home segment, YooDara Good Luck Charms deliver an entire interactive experience to consumers. In addition to the website, collectors network daily on social media channels Facebook, Twitter, Pinterest, and YouTube. The YooDara pages are extremely active sites where fans post photos, leave comments, and participate in contests for prizes. Retailers are also a welcome member of the YooDara online community. Stores are encouraged to post comments and specials related to YooDara Good Luck Charms on the social networking sites. In addition, any retailers that carry the product are featured on the YooDara.com Store Locator under the "Buy Stuff" section. Collectors can enter their zip codes to instantly return the address and contact information of the closest retailers in their area. This results in increased traffic to brick-and-mortar locations as well as online stores.
YooDara Good Luck Charms have been featured by NBC's the Today Show as well as TrendHunter Magazine, the world's number one largest, most popular trend spotting community. The characters were also seen with top YouTube personalities DeStorm and Jory Caron. These special appearances have contributed to the collectability of the YooDara product line, and Dimension 9 has developed strategic plans to retire and introduce characters in the future due to high demand.
YooDara Good Luck Charms are available now at specialty, gift, and souvenir shops throughout the nation. For information on how to purchase YooDara for a retail location, visit YooDaraSales.com or contact Dimension 9 headquarters directly at 888-594-9936 or via e-mail at sales(at)dimension9usa(dot)com.
###
Dimension 9 is a manufacturer of quality gift products. Privately owned and operated, Dimension 9 develops and imports superior, high-quality and high-profit products. Products can be found in many prominent locations such as nationally recognized attractions and premier gift and souvenir stores, and is now growing internationally. Join the YooDara Good Luck Charms social movement by becoming a fan on Facebook at http://www.Facebook.com/YooDara and following YooDara on Twitter at http://www.twitter.com/YooDara. For all the up-to-date information and latest news on YooDara, visit http://www.YooDara.com. For wholesale information and opportunities, visit http://www.YooDaraSales.com.