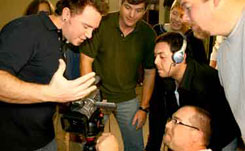 Chico, CA (PRWEB) May 29, 2012
Videomaker magazine is hosting an intensive three day video training workshop from June 1 – 3, 2012. "The Basics of Video Production" is the perfect introduction for the video newbie, made for the creative beginner who is interested in creating quality videos and movies but who might not yet have any training. Absolutely no prior experience with video equipment or theory is necessary to get the full benefit of this class; Videomaker's staff experts will show you everything that you need to know.
Unique to this workshop, every student will help to shoot and edit a complete short video over the course of the weekend. This is a demanding trial-by-fire that will force every attendee to learn, understand, and master the same video-making techniques used by professional teachers, videographers, documentarians and filmmakers.
Videomaker's Basic Production Workshop is oriented for beginners and is a great way to introduce someone to the world of making great video. The class breaks into small groups, and each that creates their own video projects from start to finish. Get hands-on experience with video production gear used by professional videographers. Learn the entire video process from production planning to shooting, lighting, editing and audio work. This class includes:
Basic Video Shooting Techniques
Audio for Video
Hands-on Microphone Training
Lighting Techniques
Editing
Space is limited so sign up today to join Videomaker's Basic Video Production workshop. Learn more about The Basics of Video Production workshop or sign up to reserve your space at http://www.videomaker.com/r/632
ABOUT VIDEOMAKER MAGAZINE
Founded in 1986, Videomaker was the first magazine to introduce video to a mass, non-industry audience. Though the video field has exploded dramatically in recent years, Videomaker still remains dedicated to its core mission: To encourage aspiring directors and documentarians to use video technology to find their own voices and tell their own stories. Today, Videomaker is more than just a magazine. It's grown to also become a robust online community, offering a full line of training DVDs, videos-on-demand and a series of webinars and hands-on video training workshops. Every month, more than 50,000 professional videographers, independent filmmakers, and home video hobbyists turn to Videomaker to get the latest video scoops.
Learn more about The Basics of Video Production workshop at http://www.videomaker.com/r/632