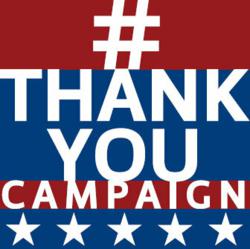 We are working to remind people what Memorial Day is all about and that while they are enjoying the company of their families, there are many military families who are handling the loss of a loved one that gave the ultimate sacrifice for our country.
Washington, D.C. (PRWEB) May 25, 2012
Launching in honor of Memorial Day 2012, a unique social media campaign hopes to raise awareness of the sacrifices made by families who have lost loved ones that served in the military.
The #ThankYouCampaign is a joint effort by Special Ops Survivors and Military Families United. The goal of the campaign is to get people thinking about the real meaning of Memorial Day and make the topic a top trend on Twitter and other social media, as well as around the picnic tables this holiday weekend.
"Memorial Day is not about mattress sales and cook-outs," says Hannah Gregory, campaign spokesperson. "We are working to remind people what Memorial Day is all about and that while they are enjoying the company of their families, there are many military families who are handling the loss of a loved one that gave the ultimate sacrifice for our country."
Taking part in the campaign is simple. People are asked to take their own "Thank You" photo which can be as simple as holding a sign that says "Thank You" or something more creative to show their support and their personalities. Photos can then be "Tweeted" with the hashtag #ThankYouCampaign or they can be posted to the campaign's Facebook page. More information and printable thank you signs and coloring sheets are available on the campaign's website at http://www.ThankYouCampaign.org.
Celebrities and public figures are also being urged to join the campaign and say "Thank You" to the families of fallen military heroes.
The campaign is being launched in time for the upcoming Memorial Day, but the #ThankYouCampaign will be an ongoing effort "because every day should be a day we remember the families of our fallen military heroes and the sacrifices they made for us," says Gregory.
Military Families United and Special Ops Survivors have joined efforts to launch the campaign but will be looking for additional nonprofit organizations that serve the families of the fallen and want to join as campaign partners.
"Military Families United is proud to be partnering with the other organizations in the Thank You Campaign to show our united support for families of the fallen," says Bob Jackson, executive director. "Through this combined effort we can not only remind the public of the sacrifices of these families, but provide the opportunity for all American's to honor our true Heroes."
The campaign was created by SHOESTRING (the nonprofit's agency) as a public service.
To learn more and join the campaign, go to:
http://www.ThankYouCampaign.org
facebook.com/pages/ThankYouCampaign/335932639803215
twitter.com/thankucampaign
ABOUT SPECIAL OPS SURVIVORS
Special Ops Survivors (formerly the United Warrior Survivor Foundation) is the only organization exclusively dedicated to serving surviving spouses of active duty Army, Navy, Air Force and Marine Special Operations personnel who have died in combat or training since September 11, 2001. The mission of Special Ops Survivors is to embrace and empower surviving spouses of Special Operations personnel to help them build a future that their fallen heroes would have wanted for them. Special Ops Survivors focuses on serving the unmet needs of surviving spouses by complementing the assistance provided by other organizations. The nonprofit organization relies on donations from the public, which can be made at SpecialOpsSurvivors.org.
ABOUT MILITARY FAMILIES UNITED
Military Families United is a not-for-profit 501(c)(3) charitable organization whose mission is to Honor the Fallen, Support Those Who Fight, and Serve Their Families. We are a national coalition of Gold Star and Blue Star families, veterans, and patriotic Americans who share a deep appreciation for our men and women in uniform and support them in their mission to keep America safe. Founded in 2005 to provide an avenue for military families to remind the nation of the importance of supporting our military and the mission they had been given to accomplish, we expanded to provide charitable programs that offer families direct support. Through a portfolio of unique services, events, and advocacy programs, we seek to ensure that future generations of Americans will never forget the sacrifices of our courageous military and that these men and women and their families receive the support they need. For more information, go to MilitaryFamiliesUnited.org. A project of Military Families United, the National Gold Star Family Registry is a 21st Century Memorial that utilizes the latest in technology to provide a searchable, scalable database of America's fallen Heroes since WWII. It is the only registry of its kind and is accessible to all Americans from homes, classrooms, libraries, or anywhere with Internet access. Learn more at GoldStarFamilyRegistry.com.
###