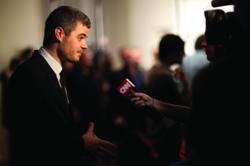 Do you think you could make this your story?
Minneapolis, MN / New York, NY (PRWEB) May 29, 2012
When Scott Harrison tells the story of charity: water, the organization he founded to bring clean and safe drinking water to people in developing nations, he often begins at an unexpected point: "I'm going to start by telling you about my mother," he says. Harrison then describes caring for his invalid mom, rebelling at age eighteen and moving to New York City where he lived fast and hard as a nightclub promoter "chasing after models and bottles."
Why begin with a personal story when his goal is helping audiences understand that "water is everything" to the people and economies of developing nations?
"Because his personal experience is at the core of his advocacy story," say John Capecci and Tim Cage, the authors of "Living Proof: Telling Your Story to Make a Difference."
One of seven advocates featured in "Living Proof," Harrison uses his story of transformation from self-interested promoter to compassionate entrepreneur to inspire others to join charity: water in bringing clean and safe drinking water to the developing world.
"While writing our manual for advocates, we saw a video of the speech Scott gave at the 2010 Big Omaha tech conference," says Cage. "It's a great example of how one person can use his or her personal story to inspire thousands to embrace an organization and its cause."
Since its inception in 2006, charity: water has brought safe, clean drinking water to over two million people and Harrison—once frustrated by the lack of marketing savvy applied to the promotion of life-saving work—is now applauded for bringing entrepreneurial freshness and creativity to the nonprofit sector.
"At the heart of the organization's message are stories like Scott's. Like all effective advocates, he tells his story naturally, memorably and generously for a greater good. By the time he asks the audience, 'Do you think you could make this your story?' many already have," says Capecci.
Listen to the Scott Harrison's Big Omaha speech at livingproofadvocacy.com. You can read an analysis of it in "Living Proof" and get inspirational guidance and practical tips on how to tell your own effective advocacy story.
About charity: water
charity: water is a non-profit organization bringing clean, safe drinking water to people in developing nations. 100% of public donations directly fund sustainable water solutions in areas of greatest need. Right now, 800 million people on the planet don't have access clean and safe drinking water. That's one in nine of us. Unsafe water and lack of basic sanitation cause 80% of diseases and kill more people every year than all forms of violence, including war. Children are especially vulnerable, as their bodies aren't strong enough to fight diarrhea, dysentery and other illnesses. Just $20 can give one person access to a clean water project.
About "Living Proof"
"Living Proof: Telling Your Story to Make a Difference" is the first comprehensive guide to telling your personal story as an effective advocate for your cause or organization and is distributed nationally by Itasca Books ($21.95, softcover, 212 pages, 6" x 9". ISBN 978-0-9838703-0-2 Granville Circle Press). It is available at independent booksellers, major online bookstores and directly from Itasca Books. For quantity discounts, contact info(at)granvillecirclepress(dot)com. Authors John Capecci and Tim Cage are communication professionals with offices in Minneapolis and New York.