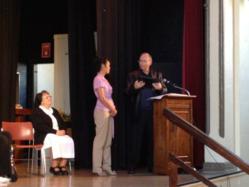 Since she began teaching at Immaculate Conception Academy, Mrs. Torres has launched many young women into careers in engineering, mathematics, and computer programming.
San Francisco, CA (PRWEB) May 29, 2012
On Wednesday, May 23, 2012, The Herbst Foundation presented an Award for Teaching Excellence to a teacher who truly deserves recognition. Gigi Torres, math teacher at Immaculate Conception Academy, has been teaching for 21 years, 12 of which have been spent at ICA. She has been ICA's Math Department Chair for the past six years. Immaculate Conception Academy is a Catholic, college preparatory school in San Francisco, for families with limited income.
Robert Taylor, a member of The Herbst Foundation Board of Directors, presented the award and said, "I've realized later in life that it was the great teachers I had that allowed me to go on to college and get a bachelors degree and masters degree, and be successful in life. I wish somehow I could go back and tell all those teachers who struggled with me that I appreciate what they did for me. Even though I can't go back and thank those teachers I can come and thank current teachers and indirectly tell my former teachers how much they're appreciated."
Mrs. Torres' ability to engage students in math has launched many young women into careers in engineering, mathematics, and computer programming. She is gifted in developing lesson plans that get her students to engage with each other, spurring each other to excel. Mrs. Torres has a vibrant personality that makes math an enjoyable subject for the young ladies at ICA. Mrs. Torres has been described by her colleagues as meticulous, attentive, professional, and caring.
Every year Mrs. Torres leads a group of students through the rigorous Engineers Alliance for the Arts bridge-building competition. This 10 week program enables students to work alongside professional engineers, helping them bring engineering concepts to life through building model bridges. ICA students won three awards this year including first and second place prizes and Best in Show.
According to Lisa Graham, ICA Principal, "Mrs. Torres is well-respected by her peers and does not hesitate to take a professional leadership role. This is evident in her thoughtful contributions to staff discussions and also in her willingness to step up to opportunities that advance her own growth as a teacher and contribute to moving us forward with school-wide goals."
Mrs. Torres was presented with a $5,000 gift from The Herbst Foundation. The Foundation gave a similar gift to ICA. According to The Herbst Foundation, "The award is intended to identify and reward a teacher who (1) engages students in critical and creative thinking; (2) inspires the joy of learning resulting in a break through to higher levels of academic achievement; (3) challenges and inspires students to do their best work and to achieve more than what might be expected; and (4) exhibits high personal and professional standards and professional development."
To learn more about ICA please contact Katie Mayberry, Marketing and Events Specialist, at (415) 824-2052 ext. 40.
About ICA
Immaculate Conception Academy, a Catholic college preparatory school, educates young women for a life of faith, integrity and service. As a Cristo Rey school in the Dominican tradition, they are committed to providing both excellent education and meaningful corporate work study experiences to students of limited financial resources. Learn more about ICA at http://www.icacademy.org. Learn more about Cristo Rey at http://www.cristoreynetwork.org.