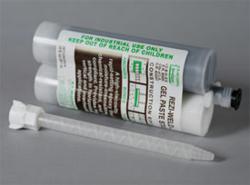 Hampshire, IL (PRWEB) May 29, 2012
W. R. MEADOWS, a leader in the construction and vapor barrier industry for more than 85 years, offers REZI-WELD GEL PASTE STATE, a two-component, high modulus, rapid-setting, moisture insensitive construction epoxy for concrete anchoring and restoration projects.
An easy-to-mix and easy-to-apply paste, REZI-WELD GEL PASTE STATE can be troweled, brushed, injected, or pumped and is ideal for filling cracks, anchoring, doweling, making small patches, and general repairs.
REZI-WELD GEL PASTE STATE provides excellent mechanical properties and bond strength to concrete and other various substrates. REZI-WELD GEL PASTE STATE is suitable for surface sealing prior to pressure injection and can also be used as an adhesive by filling voids between the surfaces to be bonded to ensure a strong void-free bond.
Product Data Sheet: http://www.wrmeadows.com/rezi-weld-gel-paste-state-construction-epoxy/
"This injection gel adhesive has a high viscosity and fast chemical bonding, making it a quick and easy solution for concrete repairs," said Matthew Price, President of W. R. MEADOWS.
In addition, REZI-WELD GEL PASTE STATE contributes to LEED credits including Indoor Environmental Quality and Materials and Recourses.
Color:
Part A…White
Part B…Black
Mixed…Gray
Specifications:
ASTM C 881, Type I, II, IV, & V, Grade 3, Classes A, B & C
AASHTO M 235, Type I, II, IV & V, Grade 3, Classes A, B & C
I.C.C. AC-58 ER #4996
W. R. MEADOWS, INC. designs, manufactures, and markets high-quality building materials for today's construction professionals. Products are sold through an authorized distribution network. The family-owned and operated company focuses on product quality, business integrity, and outstanding service since its founding in 1926.
W. R. MEADOWS remains committed to producing environmentally-friendly products and systems that meet or exceed the latest regulations. From highway construction and repair, building construction and restoration, to waterproofing/vapor barrier/air barrier products and more, W. R. MEADOWS has been satisfying the needs of the public and private sector of the building construction industry for over 85 years.