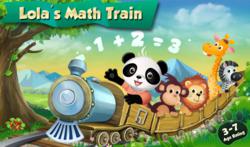 (PRWEB) May 29, 2012
It's time for summer vacation, which means road trips, plane rides and afternoons spent at home, luckily for parents BeiZ, Ltd. has released their newest app Lola's Math Train just in time. Available on the iPhone, iPad, Kindle Fire and Android devices, the game creates a fun environment for kids between the ages of 3-8 years old to strengthen their math skills while playing an interactive game.
Lola's Math Train invites children to join Lola as she makes her way through a fun filled environment of bright colors, interactive characters and creative problem solving to get all of her friends to a party. With three advancing levels to choose from and multiple languages, Lola is sure to an excellent companion to keep kids focused and prepared for the upcoming school year.
Within the game kids are encouraged to solve puzzles, complete addition and subtraction problems, identify incorrect sequencing, replicate patterns and so much more. As the child makes their way through the game they are introduced to new characters and exciting destinations on their journey to reach the party at the end of the game.
"We're excited to introduce the 5th Lola Panda game into the series of apps! Our previous apps have provided parents and kids alike with a great game that is not only fun but also educational and know that Lola's Math Train will be an excellent addition for any family," adds Mika Heikinheimo, CEO of BeiZ.
Lola's Math Train is available for $1.99 on the App Store, Google Play and Kindle Store.
About BeiZ:
BeiZ Ltd is a game studio that concentrates on providing enjoyable educational solutions and non-violent games for children and adults. BeiZ also assists its partners in publishing their games and mobile content.
For Press Inquiries, please contact,
Paige Kirchubel
Appency for BeiZ, Ltd.
paige(at)appency(dot)com
916-835-4613
BeiZ: http://www.beiz.com/
Lola's Math Train: http://www.beiz.com/lola6.html
Purchase & Download: http://itunes.apple.com/us/app/lolas-math-train-fun-counting/id516561223?mt=8