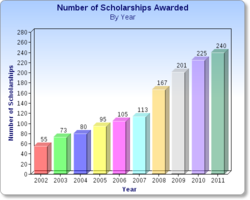 Each scholarship Freedom Alliance awards is a reminder to that student that their parent's sacrifice will never be forgotten by a grateful nation.
Dulles, Virginia (PRWEB) May 25, 2012
As we approach the Memorial Day holiday, Freedom Alliance announced today the availability of college scholarships for the children of U.S. military personnel who sacrificed life or limb in service to our country.
"This is the time of year," said Freedom Alliance President Tom Kilgannon, "when we remember those who gave their lives defending our nation. One way to honor their sacrifice is to look out for the families they left behind. Our scholarship program serves the children of heroes by fulfilling the dream of their parent – that their kids will go to college."
"Each scholarship Freedom Alliance awards," Kilgannon explained, "is a reminder to that student that their parent's sacrifice will never be forgotten by a grateful nation."
In 2011, Freedom Alliance provided more than $1 million in college scholarships to 240 students across the country. In total, the organization has given out over $5 million in education assistance.
Students are eligible if they are the dependent son or daughter of a U.S. Soldier, Sailor, Airman, Marine or Guardsman who has been killed or permanently disabled (100% VA disability rating) as a result of an operational mission or training accident, or who is currently classified as a Prisoner of War (POW) or Missing in Action (MIA). Students must be a high school senior or graduate, or registered as a full time undergraduate and under the age of 26.
Qualifying students can apply on-line at FAScholarship.com.
To learn more about Freedom Alliance or our Scholarship Fund, please visit FreedomAlliance.org or FAScholarship.com. You may also call 800-475-6620.
"We want raise awareness of this scholarship opportunity among military families," Kilgannon concluded, "because many of them need assistance in sending their kids to college, and the generosity of the American public has put us in a position to help."
The mission of Freedom Alliance is to advance the American heritage of freedom by honoring and encouraging military service, defending the sovereignty of the United States and promoting a strong national defense.