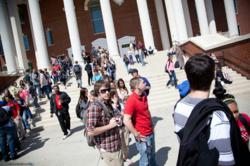 Lynchburg, Va. (PRWEB) May 30, 2012
As Liberty University continues its rapid growth, it has now become the nation's seventh-largest four-year university and the largest college in Virginia (two-year and four-year) by head count, according to the latest data from the U.S. Department of Education.
Reports confirm Liberty continues to be the largest, private four-year, nonprofit university in the United States and the world's largest Christian university.
Liberty's student head count was 77,778 for the fiscal year ending 2011, surpassing Northern Virginia Community College (with 75,490 students), Tidewater Community College (46,066), George Mason University (45,933), Virginia Commonwealth University (36,401), Virginia Tech (33,248) and University of Virginia (30,731).
In 2000, Liberty's overall enrollment was 8,606. Now, it is more than 10 times that, with enrollment exceeding 90,000 students.
Resident enrollment at Liberty for the Spring 2012 semester was 11,953.
Liberty's accelerating growth is largely fueled by its booming online education program, which has more than doubled since 2009. In April, Liberty University Online hit 75,000 students enrolled. That number climbed to 78,000 this month.
"As part of Liberty's Christian mission we have sought to make Christian education affordable and accessible for as many individuals as possible," Chancellor Falwell, Jr., said during his May 12 Commencement speech. "Liberty University Online has achieved that objective like nothing else could."
Liberty University, located in Lynchburg, Va., is the world's largest Christian university. Nearly 100,000 students attend classes on its 6,800-acre residential campus and study in its thriving online education program.