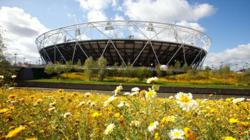 The new meadows, gardens, wetlands, woods and lawns in the Olympic Park will be enjoyed by millions of spectators and TV viewers during the Games and for generations to come.
(PRWEB) May 26, 2012
The London 2012 Organising Committee and BBC have announced the BBC Gardeners' Question Time Garden for the Games special which will give a group of listeners the chance for an exclusive preview of the Olympic Park gardens with the experts that have created them.
New gardens, wildflower meadows, lawns and wetlands in the Olympic Park are being skilfully prepared to be at their absolute best this summer to provide the colourful setting for the Olympic and Paralympic Games.
The limited tickets to the live recording, which will take place in the Aquatics Centre on the 14 June, are available to BBC Gardeners' Question Time listeners and people across the country that are getting together with their friends and neighbours to Garden for the Games and bring the colour of London 2012 to their area. They will be joined in the audience by selected gardening groups from the Olympic Park host boroughs and the Olympic Park gardeners.
Guests will also have the opportunity to tour the 2012 Garden, a half mile stretch of gardens with planting designed by recent Chelsea gold medal winner Sarah Price. The Garden celebrates centuries of British passion for gardening, with 120,000 plants from 250 different species across the world arranged into four temperate regions: Europe, Americas, Asia and the Southern Hemisphere.
The newly sown riverbank wildflower meadows, designed by Nigel Dunnett from the University of Sheffield to form a ribbon of gold around the Olympic Stadium for the Opening Ceremony, will also be starting to bloom.
Details of how to apply for tickets are available at: http://www.bbc.co.uk/radio4/features/gardeners-question-time/gqt-olympics/
More information on Garden for the Games is available at:
http://www.london2012.com/join-in/local-leaders/index.html
LOCOG Chairman Seb Coe said: 'The new meadows, gardens, wetlands, woods and lawns in the Olympic Park will be enjoyed by millions of spectators and TV viewers during the Games and for generations to come. Gardeners' Question Time have followed the experts creating this parklands and this Garden for the Games special is a great opportunity to bring listeners into the park along with people across the UK that are using the Games as an inspiration to brighten up their area.'
Features of the Olympic Park parklands during and after the Games include:

4,000 new 4-7-metre-high semi-mature trees, with more than 2,000 trees grown in Hampshire already planted in the Olympic Park, including Wild and Bird Cherry, Ash, Hazel, White Willow, Crack Willow, Alder, Aspen, Holm Oak, English Oak, Rowan, Lime, Field Maple, Sweet Gum and Silver Birch. The trees will provide shelter from wind and sunshine across the Park. Willow, Poplar and Alder have been planted in river areas to withstand flooding and species vulnerable to climate change have been avoided.
More than ten football fields' worth of nectar-rich annual and perennial meadows were designed to flower during the Olympic and Paralympic Games.
Wetland bowls and rare wet woodlands in the north of the Park create habitat and help manage floodwater, protecting new housing and venues and 5,000 existing properties from a 1:100 year storm.
300,000-plus wetland plants, grown in Norfolk and Wales, have been planted as part of the UK's largest ever urban river and wetland planting. More than 30 species of native reeds, rushes, grasses, sedges, wet wildflowers and irises have been grown initially on the Gower peninsula in Wales, with around a third grown from cuttings and seeds collected from the Olympic Park before construction started. The plants have been grown-on in coir mats sunk in waterbeds in Thetford and are now being transported and planted on the Olympic Park riverbanks.
The riverside London 2012 Garden stretches for half a mile between the Aquatics Centre and Olympic Stadium on land that has been cleaned and cleared of railway sidings, contamination and Japanese Knotweed. The garden celebrates centuries of British passion for gardens and collecting plants, with picnic lawns, timber seating and 120,000 plants from 250 different species across the world arranged into four temperate regions: Europe, Americas, Asia and the Southern Hemisphere.
A riverside Royal Horticultural Society Great British Garden overlooks the Olympic Stadium, featuring Bronze, Silver and Gold areas with matching colour wildflowers and grasses, features and running-track inspired spiral paths. The Garden also includes a 'de Coubertin oak', from an acorn collected from the tree that Baron Pierre De Coubertin planted in 1894 to thank the citizens of Much Wenlock in Shropshire for inspiring the founding of the modern Olympic Games.
New habitats for species including: otter, kingfisher, grey heron, bee, house sparrow, bat, song thrush, starling, toadflax brocade moth, lizard, black redstart, flower and fungus beetle, frogs, newts and toads, eel, water vole, slow worm, grass snake, linnet, sand martin, swift, and invertebrates.
Feature planting designed by the Klassnik Corporation, We Made That and Riitta Ikonen – an art collective based in the Host Boroughs – and the University of Sheffield to represent the industrial heritage of the Olympic Park site.
250 benches and more than 3,300 seats built into the parklands so that people are never more than a 50-metre walk from a seat.
Images of the Olympic Park Parklands are available here
London 2012 Local Leaders
The 'Local Leaders' programme, an Organising Committee first, invites people across the UK to create their own Games celebrations. The programme is open from now up to the Olympic Torch Relay and other key moments during the Olympic and Paralympic Games.
London 2012 organisers are encouraging anyone who is looking to celebrate the London 2012 Games to sign up to be a Local Leader.
Whether they invite three friends or their whole community, London 2012 will provide them with the tools to make their celebration one to remember.
For people who want to be involved they just need to pick an occasion and get planning. The Local Leaders website,http:// http://www.london2012.com/localleaders, has ideas, tools and tips to get people started planning an event.
Ideas put forward from communities across the UK include Garden for the Games, Line the Streets for the Olympic Torch Relay, hosting a sports quiz, party at home by throwing an Opening Night In and Super Saturday, the big medal-winning weekend during the Games.
Tips for Local Leaders on how they might 'Garden for the Games' include simple guides to:
Plant your own Olympic Rings or Paralympic Agitos in your garden
Grow golden marigolds for when the Olympic Torch Relay comes to your street or town
Sow a colourful wildflower meadow - either a small strip in your garden or a large patch in a community area - which doubles as a haven for bees and other wildlife, like the golden meadows around the Olympic Stadium
Get creative with vegetables and flowers in the London 2012 colours
Grow a champions' feast for a London 2012 party
Plant in team colours to support your athletes or teams training in your area. Team GB supporters will be decking their lawns in red, white and blue.
Notes to editors:
For further information please contact the London 2012 Press Office.
London 2012 Games partners:
The Worldwide Olympic Partners who support the London 2012 Olympic Games and the National Olympic Committees around the world are Coca-Cola, Acer, Atos, Dow, GE, McDonald's, Omega, Panasonic, Procter and Gamble, Samsung and Visa.
LOCOG has seven domestic Tier One Partners - adidas, BMW, BP, British Airways, BT, EDF and Lloyds TSB. There are seven domestic Tier Two Supporters – Adecco, ArcelorMittal, Cadbury, Cisco, Deloitte, Thomas Cook and UPS. There are now twenty-eight domestic Tier Three Suppliers and Providers – Aggreko, Airwave, Atkins, Boston Consulting Group, CBS Outdoor, Crystal CG, Eurostar, Freshfields Bruckhaus Deringer LLP, G4S, GSK, Gymnova, Heathrow Airport, Heineken UK, Holiday Inn, John Lewis, McCann Worldgroup, Mondo, NATURE VALLEY, Next, Nielsen, Populous, Rapiscan Systems, Rio Tinto, Technogym, Thames Water, Ticketmaster, Trebor and Westfield.
There is one domestic Tier One Paralympic Games-only Partner, Sainsbury's and one domestic Tier Three Paralympic Games-only Supplier, Otto Bock. The London 2012 Paralympic Games also acknowledges the support of the National Lottery.