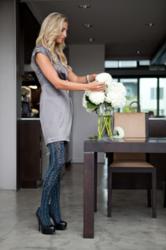 Their lightweight design and ultra sheer appearance helps keep the legs cool while blending seamlessly into the skin.
Lake Forest, CA (PRWEB) May 29, 2012
RejuvaHealth, a California-based maker & distributor of fashionable compression stockings, now provides selections from the medi Sheer & Soft line in their online support stocking store. These stylish compression garments are designed with fashion-conscious women in mind and offer a light silky finish resembling that of traditional hosiery. They are currently available through RejuvaHealth in thigh high and pantyhose variations as well as open toe and closed toe styles.
Knit using medi's advanced weaving technology, the Sheer & Soft line provides buttery softness without compromising breathability or moisture regulation. Each pair is enhanced with medi's SilverPlus ions to ensure optimal moisture transportation and maximum wearing comfort while preventing the uninhibited multiplication of bacteria on the stockings' surface. Thigh High versions include a latex-free lace stay-up band, and pantyhose variations include a supportive tummy top.
"As temperatures rise, so can anxiety for compression stocking wearers," says Kelsey Minarik who founded RejuvaHealth after having to wear compression during her own recovery from Deep Vein Thrombosis. "Heat can exacerbate some of the conditions which necessitate the use of compression, but likewise make it exceptionally undesirable to comply with suggested therapies. Fortunately, medi's Sheer & Soft line offers an ideal solution for wearers facing this dilemma. Their lightweight design and ultra sheer appearance helps keep the legs cool while blending seamlessly into the skin. A perfect pairing for summer's bare legged styles!"
For easy daily care, medi stockings can also be machine-washed - an added bonus for wearers seeking minimal maintenance. They are available in seven sizes in a variety of compression levels, including 15-20 mmHg, 20-30 mmHg, & 30-40 mmHg.
About RejuvaHealth: RejuvaHealth, LLC is a California-based company specializing in the design of fashionable alternatives to traditional medical compression stockings. RejuvaHealth brand products are offered in knee high, thigh high, and pantyhose as well as 2 different compression levels: 15-20 mmHg (mild support) & 20-30 mmHg (moderate support). In addition to distributing their name-brand products via both direct to consumer & retail channels, RejuvaHealth also distributes a carefully curated selection of other designer compression brands direct to consumers via their online store. For more information and to order products, visit http://www.rejuvahealth.com or call 877-7-REJUVA.
Contact:
Kelsey Minarik
RejuvaHealth
949-380-4855
http://www.rejuvahealth.com