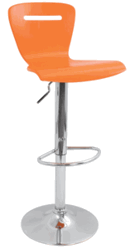 Lumisource adds a touch of color to any room
San Francisco, CA (PRWEB) May 26, 2012
Internet based retailer, BarStoolsForLess.com, announces the arrival of the H2 Modern Bar stool. The new design comes with chrome and ABS, and wood as the main composite materials.
A company spokesperson from the website commented on the item's arrival.
"BarStoolsForLess is delighted to announce the arrival of the H2 Modern Bar Stool. We are happy to welcome another LumiSource creation to our line of seating for Spring/Summer 2012."
"The H2 will add a punch of color to any room and is available in eight vibrant shades. ABS resin technology creates a moveable, curvy bar stool that delivers comfort, style and practicality with its chrome base, footrest, adjustable hydraulics and easy to clean components"
The spokesperson explained some of the terminology.
"ABS is a type of hardwearing plastic with diverse properties that make it wonderful for modern bar stool designs. Although strong and resilient as a finished product, it is very adaptable and can be easily heat-molded as part of the manufacturing process into a wide array of shapes and forms."
"This is why you will see some unique and eye-catching shapes, forms and colors in ABS, such as the Mojito stool, also by Lumisource. Check it out here on our website to see why this material is so popular with our customers."
Harry Quilter, a boutique hotelier from Miami, FL and a customer of the website, spoke of his anticipation for the new design.
"I am a huge fan of ABS and have been waiting for the release of new seating made from this material for a while now. My boutique hotel is all bright colors and retro lines - I can't wait to order some of these stools for our cocktail bar!"
A review of the company's website revealed that the H2 stool is benefitting from a 16% price discount.
The H2 bar stool and a wide range of other contemporary designs are available from Bar Stools For Less, Inc. at their website.
###