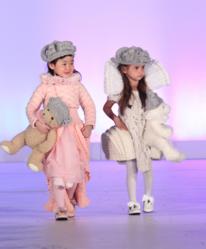 (PRWEB) May 26, 2012
The creative flair and design talent of graduating students from The Hong Kong Polytechnic University (PolyU)'s Institute of Textiles and Clothing (ITC) have won applause from the industry at their Knitwear Fashion Show held today (23 May) at The Mira Hong Kong.
A concerted effort of design students, ITC, various knitwear producers and yarn suppliers, the annual Knitwear Fashion Show showcases 21 collections of four outfits from 21 graduating students majoring in knitwear design, where the raw materials and manufacturing techniques were sponsored by knitwear producers and yarn suppliers.
Professor John H. Xin, Acting Head of ITC, said, "The sweater industry is an important branch of the fashion business, especially in Hong Kong. The knitwear they produced is quite different from other fashion products in terms of design and manufacture. Dedicated fashion show for knitwear is not common. The Knitwear Fashion Show presented by ITC is one of the very few regular events around the world. This unique fashion show demonstrates not only the ability and creativity of the knitwear design students, it also furthers the collaboration between the industry and the Institute." He also announced that Rose Knitting (Asia) Limited has pledged a generous donation to ITC in support of the next Knitwear Fashion Show.
Mr Henry Tan, Chief Executive Officer of Luen Thai Holdings Limited and Title Sponsor of the Show, remarked, "PolyU has a long history in nurturing talents for the textile industry. This Show provides a valuable opportunity for students in exploring their potentials and talents, as well as gaining real-life learning experience via working with companies and factories when producing their own design collections. I believe that students' potential is much higher than we could imagine once opportunities are given to them."
As the sole provider of tertiary education in fashion and textiles in Hong Kong, ITC offers exciting opportunities to those who wish to pursue careers in the dynamic fashion and textiles industry. Since its inception in 1957, ITC is committed to educational training and development for the advancement of the Hong Kong fashion and textile industry through various research and scholarly activities.
*****
Press contact: Miss Anne Hon
Institute of Textiles and Clothing
Tel: (852) 2766 6463