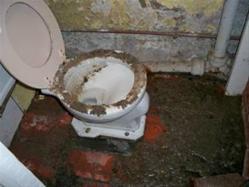 There's A Reason They Call Us Mr.™
Pittsburgh, Pennsylvania (PRWEB) May 26, 2012
"One of the worst plumbing problems that a homeowner can encounter in the home is sewer backup." ~Mr. Rooter, Robert A. Beall
Bob Beall, president of Mr. Rooter: Pittsburgh, Cranberry, Sharon, Washington, Westmoreland and Beaver Pennsylvania and Youngstown Ohio offers the "free second opinion guarantee"!
"This is considered to be a plumber's nightmare," says Mr. Rooter, "because it involves hazardous wastes that must be treated accordingly." According to Beall, it's much more complicated than regular clean up. Though these problems rarely happen, it is still important to prepare for such an occurrence, so that homeowners, as well as business owners, know what to do in case such a plumbing problem should arise.
Beall says, "Finding a qualified plumber can become more challenging than repairing the plumbing problem itself." Beall developed an online Mr. Rooter Media Center and hosts a LIVE chat for consumers to ask him questions: 24/7 emergency questions! The severity of the situation enhances when it comes to finding a dedicated and honest plumber," says Mr. Rooter. "Just the other day Beall received an emergency sewer backup question from a residential customer in the Allegheny County area of Pittsburgh," says Beall. With expert plumbing advice, Beall explained to the homeowner how to differentiate between a good and a counterfeit professional. "A qualified Mr. Rooter plumbing service technician was dispatched immediately to assess the damage, explain in detail what services would be provided and then began the arduous task of fixing the sewer issue," says Beall.
Mr. Rooter's Tip Of The Day
Tip #1 The most important thing to keep in mind is that sewer backup is already a health hazard regardless of size or immediacy of the problem.
Tip #2 Take every precaution to not come in contact with the actual waste product, and as much as possible, don't let children or pets near it.
Tip #3 If it occurs in the bathroom and the need arises to get something from there, make sure to wear heavy duty rubber boots or gloves, as well as a face mask.
Tip #4 When this problem arises, evacuation should always be the number one priority.
Tip # 5 Don't treat this problem lightly just because it happened in a small part of your house.
Tip #6 If the wastes have already become airborne, leave the house, call 877-ROOTER-2 for a free estimate.
Tip # 7 During repairs to reduce health risks try not to return to the home for any reason and rely on the most referred plumber in the area to recommend a reputable restoration company.
Tip # 8 When it comes to plumbing repairs for a sewer backup problem, don't take any chances. Only a licensed, accredited, professional plumber, with the right set of tools and knowledge can solve such a problem.
"Start off straight by asking the plumber about the project expenditure," says Mr. Rooter.
Different plumbers have different price tags associated with them. They charge either flat rates or hourly rates according to their specialties. Not all plumbers will give a rough idea about the total expenditure. The rates should be discussed before any work begins. According to Beall, "The estimate should always be free, and the most referred plumber, Mr. Rooter, always offers a free second opinion."
There are cases when plumbers leave a project halfway and leave the homeowners hanging in jeopardy. Beall doesn't want this to happen to residential or commercial consumers, so offering the guaranteed free second opinion from Mr. Rooter's LIVE chat has been a great way to offer homeowners a chance to talk to the expert plumber in Pittsburgh.
Mr. Rooter is available 24/7 by using the LIVE chat feature located here!
There's A Reason They Call Us Mr.™
Debra Santavicca PR, SMM, WebIT
Mr. Rooter Media Center
http://www.mrrootermedia.com
http://www.mrrooterpgh.com
http://www.pittsburgh.mrrooter.com