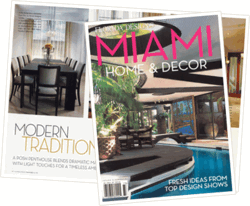 Corredor's elegant design satisfies, evoking a fresh look that is both current and enduring.
Miami, Florida (PRWEB) May 26, 2012
J Designs Group, the renowned Miami interior designer firm in Miami Florida is awarded for their outstanding work in a 21st floor penthouse in Bal Harbour and featured in the local and sophisticated Florida Design's Miami Home and Décor magazine. The magazine showcases the most eloquent interior design in Miami, Florida and is dedicated to providing luxury interior design to its affluent audience. Their approach to the redesign included creating a peaceful and relaxing setting where the owners would enjoy the serenity of having a Miami vacation home. The local magazine accentuates the talent involved in creating a residential interior design reflective of Miami. Jennifer Corredor, founder and owner embraces her vast knowledge of the city and of interior décor to bring out the best in her elegant projects. Only with mastery in both areas can one achieve this level of perfection as an interior designer the way that Corredor accomplished with this penthouse.
Because of their track record of success in transforming Florida's most exclusive residential and commercial properties, J Design Group has established an invaluable rapport in the industry. Their niche is a high-end luxury properties throughout South Florida. Clientele across the board sings their praises on their project management, space planning, deadlines, and of course the finest interior décor in Florida. As highlighted in Miami Home and Décor, "Corredor's elegant design satisfies, evoking a fresh look that is both current and enduring." J Design Group's work is praised in several Florida interior design magazines as setting a valuable standard in interior décor.
J Design Group is a Miami interior design firm with over 26 years of experience. They offer a complete range of high-end interior design services and decoration for commercial and residential properties in various communities throughout South Florida. For more information or to contact them, visit their website at http://www.jdesigngroup.com.