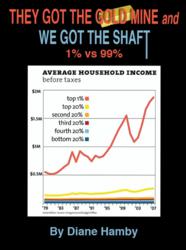 Statesville, NC (PRWEB) May 28, 2012
"They Got the Gold Mine and We Got the Shaft" by Diane Hamby is a book now availble on amazon.com as an ebook or paperback. This is a fresh, funny perspective on the what the terms that politicians love to throw around really mean. Who would live in an apartment building that didn't meet building codes? Eat in a restaurant that did not have a sanitary grade? How about dialing 911 and having to give a valid credit card number before you got help? This is what the conservatives really mean by deregulation and no taxes.
This collection of essays is so fresh with common sense and humor during this toxic political cycle. The disparity between the 1% and the 99% is 277%. That disparity happened because conservatives have spent thirty years honing their message training politicians to do their bidding. The 1% has the most friendly politicians in Washington, DC working for them. The new crop of welfare Kings are the 1%, the banks, stock brokers, oil industry, drug companies, and of course insurance companies.
When the Supreme Court released decision of Citizens United making it legal to buy politicians the onslaught of money to keep those politicians who give all these breaks to the wealthy is unprecedented. The undisclosed money being poured into elections is the real spending problem in Washington, DC. Anyone, country, or cause can now legally give any amount of money they want to support a candidiate or destroy a candidiate. Not only did they make it legal for this to happen it encourages the 1% to buy their favorite politician. The 1% will have a lot more friends in the halls of congress passing laws to make their life easier and they will pay less taxes and the 99% will pay the bills. The re-writing of all campaign laws may be legal but nowhere is it ethical to put our democracy out to the highest bidder.
Imagine if building contractors were allowed to build houses and building without all those silly pesky building codes. They could use any kind of materials, poor workmanship just let the free market work and build. Surely those kinds of building would be in high demand.
Why is the unemployment still so high? Where are all the good jobs? Why is the economoy standing still? Focusing on the stock market hurts the rest of the economy. Are Fox News and other conservative medians changing what is really newsworthy? What is the real cost of the wars? Are companies only concerned with profit? How does the election cycle drive the economy? Why are there so many polls taken and why?
Elections have consequences and everyone needs to be informed before voting. There are now so many college graduates who are unable to find work in their chosen field. They are already unable to start careers, pay down college debt and contribute to the economy. They need to be involved in this political process. Their are now millions of Americans who will never replace the good jobs with benefits they once had. The only jobs the politicians really care about are their own.
It is easy to see why Diane Hamby almost won her congressional race, just losing by 477 votes out of 80,000 cast. The country needs real leadership and losts of common sense to get us thru these tough economic times. This wonderful little gem of a book is an absolute step in the right direction. A definite must read for this election year. Visit her website dianehambywrites.webs.com.