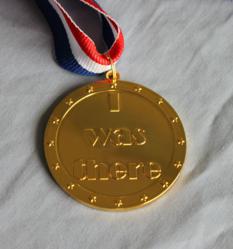 Yeah - I was there!
London (PRWEB UK) 28 May 2012
It takes some people a lifetime to achieve excellence in any sport, and a gold medal to reward that excellence - but Gold Solutions have produced one that can be won just by 'being there'.
How many times have people been to a concert or sports event and come away feeling on top of the world, but at most they might have a programme or a t-shirt to remember it by. Well now they can actually have a real 24k Gold Plated medal, complete with red, white and blue ribbon and presentation box to keep for ever. They can even 'hand down' they gold medal to their children.
Terry George of Gold Solutions said "everyone loves to see people excel in their chosen field and be rewarded with things like gold medals - something that we will see a lot of this year in London - so we thought it would be nice if everyone could have the chance to have their own 'gold medal' just for being there!.
"To experience the thrill of seeing someone winning a medal (hopefully, many will be British this year), seeing the many spectacular events planned for the Queens Jubilee celebrations, or even going to a concert and seeing a fantastic artist perform live in a show is really memorable, but can also leave you 'flat' afterwards. So we have commissioned the production of a Limited Edition solid metal 24k gold plated medal that people can mark the occasion with - to last for ever."
Gold Solutions, founders of the Gold Plating Guild, and who have lead the way in Europe supplying people with their own home gold plating kits, chemicals and 'How to Gold plate' training are looking to bring some fun into peoples lives with products that just make people 'feel better', and a gold medal would certainly do that!
With over 6 million visitors expected in the UK this year, and only 5000 of these special celebration medals being produced, it is expected that these will be sold very quickly and become a collectors piece.
For details contact Gold Solutions at info(at)goldsolutions(dot)eu
Or go to http://www.goldsolutions.eu/