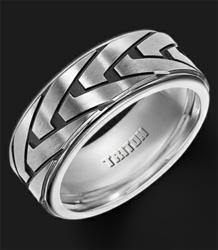 Mens Wedding Bands has found that the latest trends in fashion jewelry centers on the new look of black and white tungsten.
Bluffdale, Utah (PRWEB) May 28, 2012
Today Tayloright LLC announced the launch of their newest product line on mensweddingbands.com - providing customers with a new and wider variety of men's tungsten bands at discounts up to 70% off MSRP (Manufacturer's Suggested Retail Prices).
This newest line is a stunning black and white tungsten line manufactured by the Triton Company of New York. Mensweddingbands.com allows customers to take advantage of aggressive pricing discounts while at the same time accessing some of the jewelry industry's most sought after wedding ring fashions.
"Our customers are increasingly searching for men's fashion titanium rings online due to an ever increasing upward pricing trend in brick and mortar retail stores. Our online presence allows us to offer substantial discounts off of high retail jewelry prices by reducing or eliminating high retail overhead costs such as astronomical mall rents, insurance and skyrocketing employee costs," said Taylor Johnson, founder of Tayloright. "Our new product line features a unique blend of black and white tungsten wedding bands featuring the Triton Collection of patented tungsten carbide rings." The Triton Collection was awarded to Tayloright in February of 2009 and they continue to be a valued partner representing some of the finest traditional and contemporary wedding bands in the world.
Tayloright will continue to aggressively expand its online product lines including fashions that use precious metals and genuine diamonds. In addition to focusing on a quality product line, mensweddingbands.com offers a "Customer Satisfaction Guarantee" including a 30-day return policy and a lifetime warranty on all of its wedding rings.
For more details please visit http://www.mensweddingbands.com.
About Tayloright LLC
Based in Salt Lake City, Utah, Tayloright owns and operates 5 online web sites featuring state-of-the-art patented, wedding bands in a variety of styles including tungsten carbide, titanium, cobalt, stainless steel, gold, palladium, diamond, and platinum.
In addition Tayloright operates its own SEO company specializing in helping online sellers maximize their presence on Google, Bing and Yahoo.