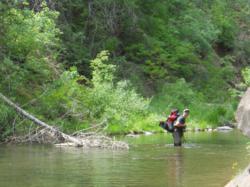 Seeing the light come on in a resident makes all the work worth it.
Flagstaff, Arizona (PRWEB) May 29, 2012
Back2Basics alcohol and drug treatment center is housing four new residents in May, to total the largest group in eight months. A large group provides a fresh challenge for staff and an opportunity for leadership among the more seasoned residents.
"Having a larger community gives the residents more of a chance to interact and learn from each other," said B2B outdoor adventure guide, Chase Christensen. "Residents who have been around longer, tend to set an example of what is expected."
The new group of young men struggling with addiction comes from all corners of the United States, including California, Indiana and Phoenix. Back2Basics founder and CEO, Roy DuPrez, attributes the spike in residents to solidity of program, word of mouth and consistent marketing both online and face-to-face.
"We run a great program and word of mouth can often be the best form of marketing. B2B families will reach out to friends who may have someone struggling in their lives too." DuPrez adds, "We also have a great staff that supports a strong online presence for Back2Basics, as well as consistently networking within their sober circles."
The hefty number of residents doesn't change the Back2Basics routine - staff is still on-site and available 24/7, all residents must participate in the Outdoor Adventure Program, healthy food is always on the menu and chores are an everyday activity.
"We have a seasoned staff and our ducks in order to help them begin their journey," B2B culinary director, Kathy DuPrez. "It definitely requires more staff in order for them to get the attention that we think each individual needs."
With the greater numbers comes greater reward. "Working at Back2Basics can be frustrating and rewarding in the same day," said Christensen. "Seeing the light come on in a resident makes all the work worth it. When someone starts to accept help and do serious work on their issues, the progress and change can be incredible to experience."