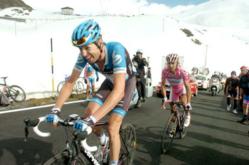 Having a Canadian win the Giro D'Italia is the most significant accomplishment in Canadian cycling
Bozeman, MT (PRWEB) May 27, 2012
Team Garmin teammate Christian Vandevelde kept the watts pegged on his Garmin Edge 500 up the lower portion of the climb of Passo de Stelvio in Italy Saturday according to the Heart Rate Watch Company. A monster of a climb nearly 13 miles long, containing dozens of switchbacks and tunnels. Vandevelde helped usher his teammate Canadian Ryder Hesjadal home to leave him only 31 seconds shy of Joaquim Rodriquez with a 30 kilometer time trail remaining in Milan on Sunday.
Sunday Hesjadal came through big time delivering Canada its first ever cycling Grand Tour victory in the Giro D'Italia.
"Joaquim Rodriquez of Spain aas in the lead and crashed on a course reconnaissance during warm-up," says Rusty Squire of the Heart Rate Watch Company, a former US cyclists who rode with Steve Bauer, the last Canadian rider to hold a jersey in a major Tour event. He adds, "Hesjadal turned on the afterburners in Milan Sunday and out did all the other top favorites."
The Giro D'Italia is a grueling 21 day cycling race and is widely considered by many as the "most beautiful" bike race in the world.
"I have been up the Passo de Stelvio before and it is a brutal climb from Bormio," states Squire. He adds, "Having a Canadian win the Giro D'Italia is the most significant accomplishment in Canadian cycling ever and great for cycling in Canada."
For Garmin, a U.S. company based in Olathe, Kansas, having one of their team riders win a Grand Tour is a major accomplishment because no Team Garmin rider has ever won a Grand Tour. Vaughters has always stressed team work rather than super stars and what Team Garmin executed in this Giro D'Italia was a brilliant piece of team work.
While Hesjadal has not won the Giro yet there is little doubt that he will be on the podium in Milan Sunday as he holds a 1:20 advantage to last year's Giro winner Michele Scarponi of Italy.
Ryder Hesjadal owes a lot to his teammates Peter Stetina and Christian Vandevelde who protected him and drove the pace when necessary on the brutal 20th stage to keep him with all the top favorites.
For the first time ever they'll be playing "Oh Canada!" from the podium in Italy. What a brilliant day for Canadian cycling this is.