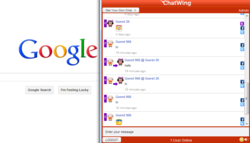 San Jose, CA (PRWEB) May 26, 2012
Google Adsense has been one of the most efficient ways to make money online, based on different recommendations made by users all over the world. Those who want to build up their online portfolios through Google Adsense can take advantage of the communication leverage that Chatwing chatbox can offer. This simplistic chat tool can improve the way people communicate online.
Chatwing operates in a versatile platform that allows up to 600 chatters at a time. This rate of accommodation is important for bloggers who are looking for ways on how to increase the online presence of their blogs chat widget. "The trick is to establish an online presence in the least possible time. This is possible by creating the ten pillar posts of a blog. That is the foundation. As a bonus, important bonus if I may add, Chatwing can boost a blog's online presence by turning it into a web chat lounge. Just imagine: the possibility of a hundred users discussing many topics can really push the blog upwards," says Michael Diamond, one of Chatwing's core developers.
Many bloggers who used Chatwing have indeed noted that the shout box has increased the visibility of their blogs by more than fifty percent. This usually happened about one week prior to installation and the percentage varies depending on the content of the blog. Easy installation is also one of Chatwing's strong points, compared to other chatrooms that require complicated commands or third-party download clients. Adding to that, Chatwing's guests and visitors can log in with their Facebook or Twitter accounts, improving the rate of social connection.
The Chatwing team also maintains a Facebook page. This page is often updated with content that is fresh and useful.
About Chatwing.com
Chatwing.com has developed live chat software for websites and blogs. It caters to different online communities due to its high rate of connectivity. Everyone can create a customizable live chat tool in 1 minute or less. Users have the ability to customize the size, color, and fonts of the chat product. The ability to chat via social media accounts such as Facebook and Twitter enable Chatwing to offer a personal and unique real-time experience to all sites. Chatwing is a 100% free chat box that is very easy to use.