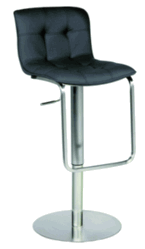 Our tip sheets are always popular with customers.
San Francisco, CA (PRWEB) May 28, 2012
Bar Stools For Less, Inc. is preparing a new email 'tip sheet' focusing on metal bar stools. Also featuring helpful suggestions for choosing kitchen bar stools, the tip sheet is being prepared for released to the company's email mailing list.
A company spokesperson from the retailer explained the motivation for the decision.
"We decided to combine two popular themes – bar stools made from metal and those that are great in culinary settings. We receive a lot of customer feedback and have noticed that hardwearing and easy-clean fabrics fare well in these environments. As such, we decided to pull together all of the expertise held by our staff and our customers into one handy guide covering both these topics."
The spokesperson was asked to offer some preview information on what is likely to be included in the tip sheet.
"Our tip sheets are popular with our customers for being quick reference guides for our products as well as offering inspiration for their use. In this tip sheet, we will include a lot of practical pointers, such as how to choose the correct height for the surface and cleaning tricks for extending the life of your seating for as long as possible. Current style options, colors and trends will also be covered, resulting in a well-rounded reportage on metal and kitchen themed bar stools."
To find out more information about the company's range of metallic seating, the company invites customers to visit its website.
The spokesperson continued, "As always, we want the tip sheets we produce to hit the right notes for our customers, so we invite shoppers to take a look at our website and email us with any particular aspects, queries or questions they would like us to address."
To view the selection on offer, visit the company's website at: http://www.BarStoolsforLess.com. Visitors are invited to use the Contact Us page to enter their e-mail address, and be on the list for the tip sheet scheduled to go out next week.
###