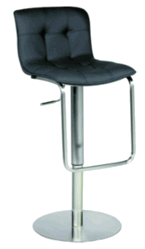 Leather seating is a classic choice.
San Francisco, CA (PRWEB) May 31, 2012
Leather bar stools are the most recent product line to benefit from promotional discounts at BarStoolsForLess.com. Backless bar stools are also included in the spring sale. Upon reviewing the company's website, it was confirmed that some models have been slashed in price by up to 23%.
A company spokesperson from BarStoolsForLess.com explained the move.
"Leather seating is a classic choice which represents great value for money, durability and adaptability. With the right selection, you can be guaranteed many years of comfort and style. We are excited to announce that customers are invited to benefit from generous savings on a wide range of models available on our website."
As a homage to the company's sale on leather and barstools without backs, which can be browsed at http://www.barstoolsforless.com/backless-bar-stools.html, here are three useful furniture facts and care tips on leather courtesy of BHG.com:
Myth: Leather furniture doesn't last!
Fact: Leather furniture is something purchased for a lifetime. Since leather is a natural product, aging brings out its natural patina, making it even more beautiful over time. And since leather furniture is something enjoyed for years to come, this is a purchase that makes a sound investment.
Fact: Leather is easy to care for. Just use a conditioner every 6-12 months and wipe up spills as they occur with a clean cloth. Avoid using normal cleaning supplies -- like soaps, detergents, solvents, etc.
Myth: Leather furniture is easily damaged by animals and kids!
Fact: Unless a dog thinks the new leather couch is a chew toy or a cat thinks it's a scratching post, leather furniture is as safe as any other furniture in the house. For more peace of mind, one should select protected leather for your furniture; this has an extra finish applied to it. This helps protect the leather so pets and kids can sit on the couch with none of the usual worries.
To view whats on offer, and sale, at the retailer, go to the home page at http://www.barstoolsforless.com/.
###