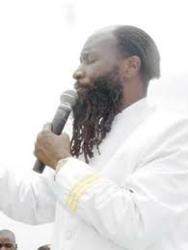 "These are the days of distress prophesied and seen by Daniel the prophet in Daniel 12:1."
Washington D. C. (PRWEB) May 27, 2012
Dr. David Owuor, recognized by the global church as the the LORD's end-time prophet, recently stated live in a packed Toronto Canada pastor's conference, April 29, 2012 that "judgment is about to fall in America", and a "very dark day is going to dawn." Specifically, the prophet said that he heard and saw, "Philadelphia and a tall building with smoke."
"These are the days of distress prophesied and seen by Daniel the prophet in Daniel 12:1."
The prophet quoted 2 Chronicles 7:14 and says that the LORD is loving the land of America. "If my people who are called by my name will humble themselves and turn away from sin, I will hear, says the LORD."
On August 23, 2011, Dr. David Owuor warned specifically of the U.S. earthquake live on Jesusislordradio.info and international radio five hours before the shocking earthquake that struck Washington D.C., and the east coast of the United States.
In addition, he prophesied judgment to the United Stated southern coast in July 2005 several weeks before hurricane Katrina devastated New Orleans repeating the call to repentance from sexual sin, lying, and the prosperity gospel. See the video of the Prophet's exact words dated July 20th, 2005 in Nairobi, Kenya at http://www.youtube.com/watch?v=mgl7cOVjxxY
Then as now, the LORD is calling for national repentance in the United States, from the White House, Stock Exchanges and Hollywood to the politicians, corporate leaders, and especially the church (the bride of Christ). This call to repentance by Dr. Owuor was given live on air, on jesusislordradio.info and recorded here at http://www.youtube.com/watch?v=9_utwge9M0Y
Pastor Louis Lupo of Maryland Altar says, "given that the Prophet speaks for the LORD, and his accuracy and message of repentance and of holiness is evidence thereof (Deuteronomy 13:1 and Deuteronomy 18:15) America should soberly and seriously receive the national call to repentance."
Many of Dr. Owuor's fulfilled prophecies can be verified and found online for free at http://repentandpreparetheway.org and http://jesusislordradio.info.
Prepare the Way, the Messiah is coming!
Media Contacts
Louis Lupo
Pastor, Maryland Altar
202-677-0673
marylandaltar(at)yahoo(dot)com
James Ngugi
Pastor, Kings Outreach U.S.A.
314-449-6997
PastorJames100(at)yahoo(dot)com