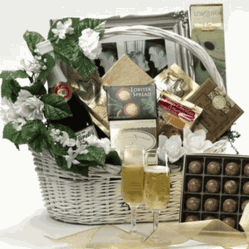 Who doesn't love weddings?! We're happy to have an extensive selection for engagements and nuptials.
San Francisco, CA (PRWEB) May 29, 2012
MyGiftBasketIdeas.com announces a new line of engagement gift baskets in time for the summer wedding season. It now carries options that it describes as being perfect for a woman celebrating her engagement or marriage.
A company spokesperson from MyGiftBasketIdeas gave the following statement.
"We are happy to announce the timely arrival of tokens to help show newly engaged or married loved ones that you share in their joy. At MyGiftBasketIdeas.com, we adore a love story and want to help customers celebrate. We are offering discounts of up to 20% on nuptial themed gifts. Shoppers are invited to get into the spirit of things and select a beautiful, romantic basket for the special couple getting hitched or even to your other half if you are engaged."
Here are some engagement related facts from theweddingwizards.com:

The average engagement lasts 14 months.
3 percent of brides plan on signing a pre-nuptial agreement.
The percentage of brides that change their names after getting married is 81 percent.
99 percent of couples take a honeymoon.
40 percent of honeymooners stay at resorts.
16 percent of all weddings are destination weddings.
An average of 44,230 weddings take place in the U.S. each weekend.
The median age for first time brides is 27 years of age (for grooms it is 29).
The average diamond engagement ring costs $2,000.
The average spent on wedding rings is $1,016.
The average wedding costs approximately $27,000.
A total of $72 billion is spent on weddings in the U.S.
Weddings are a $50 billion per year industry.
The bride's parents pay for 30 percent of all weddings.
The couple pays for 32 percent of all weddings.
15 percent of weddings are paid for by both sets of parents.
People spend $19 billion buying presents off of gift registries.
People spend, on average, between $70 to $100 on wedding gifts.
The average couple spends $3,700 on a honeymoon.
The full collection of wedding, engagement, and other related baskets can be found here: http://www.mygiftbasketideas.com/wedding-gift-basket.html. Visitors are also encourage to start at the home page, which is http://www.MyGiftBasketIdeas.com.