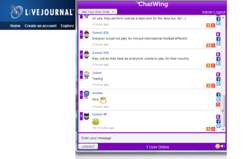 Omaha, NE (PRWEB) May 26, 2012
LiveJournal is known as one of the simplest blogs that anybody can use in the Internet today, based on many user recommendations. A Livejournal blogger will have many publishing options, and CSS coding is also allowed. Lately, Livejournal bloggers are using a reliable chat widget known as Chatwing. This simplistic chat tool is known for creating a leverage of communication for everyone. Like Livejournal, Chatwing can be used in just simple and easy steps.
Chatwing is currently making a name in the blogging industry because of its simple yet powerful features. One of these is social media integration. Through this, guests and visitors can log in with their Facebook or Twitter accounts. This is essential for people who are looking forward in expanding their social networks. Chatwing also empowers the premise of website chat, helping bloggers get the needed online presence for their blogs. Chatwing does this by simply turning the blog into an active chat lounge that people can always visit. For Livejournal bloggers, this is another way to interact with blog visitors. This is why some online entrepreneurs use Chatwing as a part of their marketing campaigns.
Easy installation is also a strong factor of Chatwing. A person can install Chatwing by registering his blog or website's domain name. Next, he can now modify the appearance of the widget. This takes only a few seconds, depending on the preferences of the blogger. Once the customization is over, Chatwing will now generate the HTML code needed for embedding. Once embedded, the shoutbox will go live right away. Livejournal bloggers have also observed that Chatwing have increased the visibility of their blogs by a significant percentage.
In Chatwing's main website, an embedded shout box is ready for trials. Alternatively, this is another way for visitors to post their questions and inquiries in real time. There is also an admin present that will always deal with their inquiries.
About Chatwing.com
Chatwing.com has developed live chat software for websites and blogs. It caters to different online communities due to its high rate of connectivity. Everyone can create a customizable live chat feature in 1 minute or less. Users have the ability to customize the size, color, and fonts of the chat product. The ability to chat live via social media accounts such as Facebook and Twitter enable Chatwing to offer a personal and unique real-time experience to all sites. Chatwing is 100% free and very easy to use.