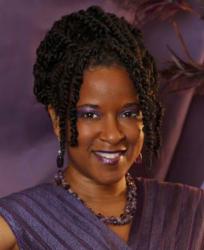 I am thrilled to return as Honorary Captain of the GREEKs for HBCUs Team
Los Angeles, CA (PRWEB) May 29, 2012
The Southern California Area office of UNCF–the United Negro College Fund–the nation's largest minority education organization, is hosting its 30th Annual Walk for Education on Saturday, June 2, 2012 at Exposition Park. T'Keyah Crystal Keymáh (That's So Raven / In Living Color / Cosby) will again serve as the Honorary Captain for the walk's "GREEKS for HBCUs" team. Her team consists of members of Delta Sigma Theta, Alpha Kappa Alpha, Zeta Phi Beta, and Sigma Gamma Rho sororities, and Omega Psi Phi, Alpha Phi Alpha, Phi Beta Sigma, Iota Phi Theta and Kappa Alpha Psi fraternities.
"I am thrilled to return as Honorary Captain of the GREEKs for HBCUs Team," says the actress who is also a member of Delta Sigma Theta Sorority. "I reflect fondly on my days at Florida A&M University, and how visible and active all of the sororities and fraternities were. Membership in Black Greek letter organizations on college campuses is preparation for a lifetime of service. It is no wonder that we are eager to help today's students enjoy the unique experience that is matriculation at an HBCU. Given our country's current racial climate, I am prouder still to rally support for institutions that foster global mindedness and stand as testimony that we are more than we are assumed to be."
For 66 years, UNCF has provided financial assistance to students and its 38 member historically black colleges and universities (HBCUs). Without UNCF's support, many of those students would not have access to higher education or the benefits it provides. UNCF's Walk for Education supports more than 60,000 students a year at more than 900 colleges and universities across America. The walk is an opportunity for the community to rally together to help children get the college education our nation needs them to have in order to compete in a global economy.
Although Captain Keymáh, has raised an impressive sum for her own team, she says, "I want everyone to join the walk whether its on my team or not. It's about supporting the students ... and its fun!" Also known for her acclaimed stage shows, Keymáh is currently booking her award-winning solo piece, "Some of My Best Friends: A Collection of Characters," around the country again in preparation to begin shooting the film version of the show in early 2013.
Currently, T'Keyah Crystal Keymah is being managed by Vanzil T. Burke of the Burke Management Firm. "I am pleased that my client is involved with such a worthy cause," states Mr. Burke, who also manages Todd Bridges and Reynaldo Rey. The Burke Management Firm, based in Los Angeles, also manages Dr. Bill Releford and the nationally renowned Black Barbershop Health Outreach Program.
The UNCF 30th Annual Walk for Education will be held Saturday, June 2, 2012 in Exposition Park, at Coliseum Drive and Menlo Avenue. On-site registration begins at 7:00 a.m. and the walk begins at 8:00 a.m. Post-walk festivities are from 11:00 a.m. until 1:00 p.m.
To join or make a donation to the "GREEKS for HBCUs" team, or for more information on the walk, visit tinyurl.com/2012UNCFWalk.