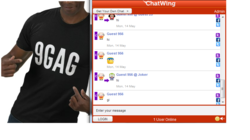 Austin, TX (PRWEB) May 27, 2012
Meme is a common word in the Internet today. This is associated with pure humor, sarcasm, and the manifestation of everyday life. Based on Internet statistics, many people are using memes to reflect what they feel about certain occurrences. These memes are created by people in order to bring amusement for everyone. Meme creators, recently, are flocking into the Chatwing chatbox in order to look for new friends. Through Chatwing, these meme creators can now share their works at an even greater pace.
To ensure that people are getting one hundred percent efficiency in terms of communication, the Chatwing development team took advantage of social media. Now, guests of the Chatwing shout box can use their Facebook or Twitter accounts to log in. This is useful for people who are looking for new friends and followers. For 9gag meme creators, more friends are equal to more fun and opportunities. Also, Chatwing is noted for its versatility. This chat tool has been used in several online communities such as those ones related to blogging, technology, gadgets, trends, and even animation.
In the latest version of Chatwing, the relay of communication is faster and installation time takes only a few seconds. To install the chat widget, the user must register his blog or website's domain name. After that, Chatwing will prompt him to modify the appearance of the chat tool. This rate of customization has appealed to a lot of bloggers lately. Once all processes are complete, the user can now embed the widget to his blog and it will go live in a matter of seconds.
Feedbacks regarding Chatwing chatrooms are mostly positive. This is because of the fact that Chatwing empowers the premise of website chat. Its developers believe that online communication is essential for everyone today. Bloggers who used the new version of Chatwing have also observed great increase in the online presence of their blogs. This contributed to Chatwing's overall ranking.
About Chatwing.com
Chatwing.com has developed live chat software for websites and blogs. It caters to different online communities due to its high rate of connectivity. Everyone can create a customizable live chat feature in 1 minute or less. Users have the ability to customize the size, color, and fonts of the chat product. The ability to chat live via social media accounts such as Facebook and Twitter enable Chatwing to offer a personal and unique real-time experience to all sites. Chatwing is 100% free and very easy to use.