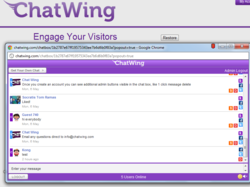 Cambridge, MA (PRWEB) May 27, 2012
A lot of professionals are now choosing Google+ as their main social networking site because of the simple features that it can offer. Google+ still has its juice, despite the widespread popularity of large social networking sites like Facebook and Twitter. Since social networking Google+ professionals are known for their eagerness to make connections, they have been spotted lately in a global chat widget known as Chatwing. This chat tool has been making a name in the blogosphere for quite some time now.
Chatwing is built for the sole improvement of blog and website chat. Since it is a widget, it can be installed to most blogs and websites. It is based on HTML and users can just copy codes in their blogs' custom design editor. This simplicity has enticed a lot of people to use Chatwing. It is evident that people don't like chat applications with complicated chatrooms. Since information travels fast nowadays, people always look forward to results. This is the same case for Google+ professionals who are always busy.
Installation of the Chatwing shoutbox can be summarized in three important steps: registration, customization, and embedding. All of these processes take only a few seconds to accomplish. In customization, the user will get the chance to edit the appearance of his widget. He can opt to change the size, color, and name. This degree of customization has benefited a lot of Google+ users who are also bloggers.
Chatwing users have also noted that the chat tool has improved the online presence of their blog by a considerable rate of fifty percent. The rate of improvement varies depending on content, blog design, and how interactive the blog is. When it comes to being interactive, the Chatwing web chatbox makes the difference. Chatwing does this by turning the blog into a chatting lounge filled with different topics to begin with. Also, Chatwing allows social media integration so users can log in with their Facebook or Twitter accounts.
About Chatwing.com
Chatwing.com has developed live chat software for websites and blogs. It caters to different online communities due to its high rate of connectivity. Everyone can create a customizable live chat box feature in 1 minute or less. Users have the ability to customize the size, color, and fonts of the chat product. The ability to chat via social media accounts such as Facebook and Twitter enable Chatwing to offer a personal and unique real-time experience to all sites. Chatwing is 100% free and very easy to use.