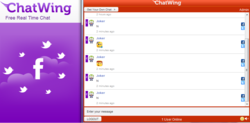 Washington, DC (PRWEB) May 27, 2012
Washington, DC – Skype is now one of the major programs specializing in online communication today, in reference to different reviews taken all over the Internet. Skype allows a user to call and send an important SMS message to his contacts. This is useful for professionals who have business transactions online. Chatwing, a globally competitive chat box, is now available for many Skype users online. This chat application is built for social connection, and it is a reliable booster for any marketing arm.
If Skype is the bridge for online communication, Chatwing chatrooms is the leverage for blogs and websites. During the early release of Chatwing, it has already generated a lot of sign-ups from major bloggers all over the world. These bloggers are normally users of Wordpress, Posterous, Blogger, and Livejournal. This is because of the fact that Chatwing improves a blog's activity through persistent website chat. Also, Chatwing has many notable features that can really entice a lot of online users who want to expand their networks. Social media integration is one of these features.
Through social media integration, people can log in with their Facebook and Twitter accounts. Facebook group makers and recruiters have benefited a lot from this. Also, many professionals have used Chatwing as a part of their marketing campaigns. In Twitter, people have used Chatwing to find more followers. Bloggers have also commended Chatwing's utmost versatility. Because it operates on a simple yet reliable platform, it became adaptable to various Internet communities. These communities are mainly about blogging, Internet marketing, walkthrough sites, gaming, advice, and even technology trends. An adaptable and globally-renowned shout box is essential for any Skype user's contact hunt.
As a bonus, Chatwing has an official Facebook page that Skype users can always visit. This page contains fresh and useful content that everyone can discover. In Chatwing's main website, people can also try out the embedded chat widget. This is to let them feel the communication potential of Chatwing.
About Chatwing.com
Chatwing.com has developed live chat software for websites and blogs. It caters to different online communities due to its high rate of connectivity. Everyone can create a customizable live chats feature in 1 minute or less. Users have the ability to customize the size, color, and fonts of the chat product. The ability to chat via social media accounts such as Facebook and Twitter enable Chatwing to offer a personal and unique real-time experience to all sites. Chatwing is 100% free and very easy to use.