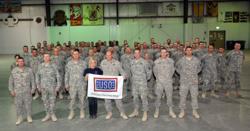 "The USO tours I've been part of have definitely been the highlight of my career and my life....," said Pickler. "I love and respect our nation's troops, and I jumped at the chance to go out and spend time with them this Memorial Day.
Arlington, VA (PRWEB) May 27, 2012
Singer/Songwriter to Dine with Troops and Perform Two USO Shows on May 28th, During Star's Fifth USO Tour to the Region Since 2007
Twitter Pitch: @KelliePickler to honor our nation's real heroes this Memorial Day during @the_USO tour to Middle East!
BNA Recording artist Kellie Pickler joins the USO in honoring our nations real heroes with a week-long Memorial Day USO/Armed Forces Entertainment tour to the Middle East. Paying homage to those who have fallen as well as those currently serving on the front lines, Pickler will dine with troops and perform two USO shows on Memorial Day. In the region on her fifth USO tour, Pickler is visiting two countries in eight days and performing a total of five shows.
DETAILS:

Three days into Pickler's 8-day USO tour, she has lifted the spirits of more than 1,300 service men and women stationed at Camp Arifjan in Kuwait.
Since first volunteering with the USO in December 2007, Pickler has participated in four USO tours and 43 USO appearances (to include meet & greets, autograph signings and performances).
Prior to this year's tour, she has uplifted the spirits of more than 21,300 service men and woman stationed in Kuwait, Iraq, Afghanistan, Germany, the United Kingdom and Kosovo.
Pickler's commitment and devotion to the U.S. military extends far beyond USO entertainment tours. In February 2012, she kicked off Road to the Ram Jam series, an invitation only concert event in December. As part of the honor, Pickler received a one-year lease on a 2012 Ram 1500 Laramie Longhorn truck, which will be auctioned off in early 2013. At the request of Pickler, proceeds from her truck will go to USO Warrior and Family Care, a comprehensive long-term program that supports the continuum of care that helps provide wounded, ill or injured warriors with the hope and confidence to sustain their journey towards a full and rewarding life. To learn more program, visit http://www.uso.org/warriorandfamilycare.
Pickler released her third studio album "100 Proof" in January 2012. The album debuted at No. 2 on Billboard's Top Country Albums Chart and includes the single "Tough."
The USO incorporates honor in everything we do for our troops and their families. Whether it's serving our men and women on the front lines, supporting their loved ones back home, assisting our healing heroes, their military families and caregivers, or offering help to families of the fallen, we do it with the utmost respect. Join the USO as we honor, salute and celebrate our nation's real heroes. visit http://www.uso.org/honor-salute-celebrate
QUOTE:
Attributed to Kellie Pickler:
"The USO tours I've been part of have definitely been the highlight of my career and my life. It has been the most impactful, life-changing thing I've been able to do. I love and respect our nation's troops, and I jumped at the chance to go out and spend time with them this Memorial Day. This tour may be my fifth, but in many ways it feels like my first time going out… it never gets old and I am always meeting someone new."
MULTIMEDIA:
USO Tour Photos: http://bit.ly/JKSp3a
USO Logo: https://uso.box.net/shared/6q5cq0siij
# # #
About the USO
The USO (United Service Organizations) lifts the spirits of America's troops and their families millions of times each year at hundreds of places worldwide. We provide a touch of home through centers at airports and military bases in the U.S. and abroad, top quality entertainment and innovative programs and services. We also provide critical support to those who need us most, including forward-deployed troops, military families, wounded warriors and their families and the families of the fallen.
The USO is a private, nonprofit organization, not a government agency. We rely on the generosity of our volunteers and donors. In addition to individual donors and corporate sponsors, the USO is supported by President's Circle Partners: American Airlines, AT&T, Clear Channel, Kangaroo Express, Kroger, Lowe's, Northrop Grumman Corporation, Procter & Gamble, and TriWest Healthcare Alliance and Worldwide Strategic Partners: BAE Systems, The Boeing Company, The Coca-Cola Company, Lockheed Martin, and Microsoft Corporation. We are also supported through the United Way and Combined Federal Campaign (CFC-11381). To join us in this patriotic mission, and to learn more about the USO, please visit uso.org.