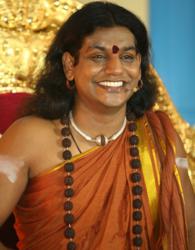 I want to preserve my energy for creative purposes like serving the society!
Los Angeles, California (PRWEB) May 28, 2012
Launching its third major service project in less than a month after His Holiness Paramahamsa Nithyananda's coronation as 293rd pontiff of Madurai Aadheenam, Nithyananda Dhyanapeetam along with Madurai Aadheenam hosted a joint free weekend multispecialty medical camp on 26th & 27th May at the Madurai Aadheenam premises.
In another major decision, the first overseas branch of Madurai Aadheenam will be set up in Los Angeles, USA. Madurai Aadheenam will be the first-ever spiritual organization of its kind to have an overseas branch.
The multispecialty medical camp offered free consultation, diagnosis, check-up and medicines. The specialties at this camp, which is being hosted at an expense of Rs.5 lakh (Rs.500,000/-) include dentistry, ophthalmology, gynecology, pediatrics, ENT & orthopedics, among others. Over 50 doctors and specialists, all of whom are initiated disciples of Paramahamsa Nithyananda, volunteered their services at the camp, which catered to around 2000 patients.
INAUGURATION & PRESS MEET: Following the inauguration of the medical camp by lighting the sacred lamp, the two pontiffs of Madurai Aadheenam Srila Sri Arunagirinatha Sri Gnanasambanda Desika Paramacharya Swamigal and His Holiness Paramahamsa Nithyananda jointly addresses the media.
Paramahamsa Nithyananda stated that the two-day free medical camp will be held every fortnight at Madurai Aadheenam. Equipped with the latest diagnostic machines, including auto-refractometer, ultrasound & ECG, glucometers for blood sugar monitoring etc., the camp will offer professional services, including door-to-door free services in case of patients requiring surgery. A separate area has been earmarked on the Madurai Aadheenam premises to set up a facility for the fortnightly camp. In upcoming camps, the services would be expanded to include siddha, homeopathy, ayurveda and natural medicine.
FREE 24 HOUR DIALYSIS CLINIC: With the donation of 47 dialysis machines costing Rs. 600,000 each by two Canadian doctors who are followers of Paramahamsa Nithyananda, a free 24-hour dialysis clinic catering to nearly 250 people a day will be set up in the city shortly, to service the large numbers of renal failure cases occurring in Madurai due to the excessively hard water in the region. A 300-bed hospital and outpatient unit were also being planned at another location in the city.
ILLEGAL OCCUPANCY: Referring to over 140 Madurai Aadheenam properties which are under illegal occupancy, Paramahamsa Nithyananda stated that Madurai Aadheenam was willing to help the illegal occupants relocate.
EXPANDING SOCIAL SERVICES TO MADURAI AADHEENAM: Nithyananda Dhyanapeetam has a proven track record of social and community service, including serving 10,000 free meals a day in ashrams and centers around the world, conducting free medical camps for 10, 000 people a week and extending 90% education support for close to 10,000 kids per month in association with the Karnataka government's education subsidy program. Micro-financing projects offering interest-free loans to rural entrepreneurs have been highly successful in 60 villages. A number of villages in Karnataka were also being adopted under the 'Model Village' project, where clean drinking water, hygienic toilet facilities and schools are being established, and vices like alcoholism, drug dependency and depression rampant among the rural populations are being countered effectively through counseling, yoga and meditation. Paramahamsa Nithyananda stated that all these services would be expanded to Madurai Aadheenam also, and work has already started on several of these projects.
'MADURAI AADHEENAM WILL BE A PILLAR FOR SOCIETY': In response to a protest planned by some anti-social elements against the medical camp, the 292nd pontiff Srila Sri Arunagirinatha Sri Gnanasambanda Desika Paramacharya Swamigal categorically stated that Madurai Aadheenam was not just a place for worship and religious activities, but would also play an active role in providing social services like medical care and education. 'Madurai Aadheenam will be a pillar for society,' the pontiff said. The 292nd pontiff has donated his personal property in four villages of Tiruppurampiyam, Kanjanoor, Kachanam and Pannatheru in Tanjavur Dt. to set up 20-bed hospitals for the local people. Construction works for expanding the infrastructure has already begun at all four sites.
Responding to questions from the media about the protests by certain individuals against his coronation, Paramahamsa Nithyananda indicated that all issues that could not be settled amicably may need to be handled legally. 'I want to preserve my energy for creative purposes like serving the society!,' he laughed.
In conclusion, Paramahamsa Nithyananda revealed plans for a media center to be set up shortly at Madurai Aadheenam premises.
About Nithyananda:
His Holiness Paramahamsa Nithyananda is recognized as one of the world's top 100 most spiritually influential personalities of 2012 by the reputed esoteric magazine 'Mind Body Spirit' from Watkins.
Paramahamsa Nithyananda is a global leader in yoga, meditation, kundalini awakening enlightenment science. Clear, dynamic and modern in approach, Nithyananda's teachings have already transformed 15 million followers in 150 countries with the fastest growing spiritual community around the youngest incarnation.
For more information on Paramahamsa Nithyananda's Teachings, please visit : http://www.youtube.com/lifeblissfoundation
http://innerawakening.org/