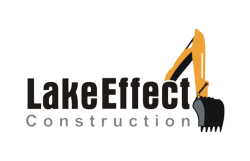 This is the kind of business that most people can not start by themselves
Poplar, WI (PRWEB) May 29, 2012
Lake Effect Construction was started in 2011 when Daniel Haskins met Jonathan Thralow Of Tycoons Private Equity and pitched him with the idea of starting a landscaping and excavating business in Northern Wisconsin. Jonathan, who has found success starting online businesses, was a bit of a stranger to landscaping but saw the potential growth in the business and the drive that Daniel has. "This is the kind of business that most people can not start by themselves", said Thralow. Large upfront costs make it a difficult buisiness to get into and with the local banks tightening up their lending practices Mr. Haskins was limited in his options. With the Tycoons Private Equity investment Lake Effect Construction was able to purchase some very nice equipment, including a bulldozer, a skid steer, dump truck and excavator along with trailers and landscaping tools the company is prepared to handle almost anything in the landscaping realm.
Mr. Haskins was eager to explain "We have already completed products for customers including, building roads, digging ponds and septic systems, creating wildlife plots and trails, demolitioning old buildings, but the project that I am most excited about will be restoring a river bank on the famous brule river in northern Wisconsin where over 40,000 canoers and kayakers we be able to see our work every year.
Mr. Thralow sounds happy that he made this investment. "I assumed it would take years to build up a reputation in this area, but Danny's quality work and work ethic is so strong that he is already scheduled out months in advance. This has not come with out problems, I have quickly realized that equipment breaks down and our search is on for a second employee. Someone who can repair these machines quickly to limit our downtime."
About Lake Effect Construction: LEC is an landscaping, excavating and trucking company that services northern Wisconsin and Duluth, Minnesota. The company is based out of Poplar, WI.