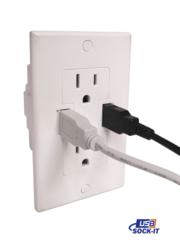 this product will simplify your life when charging your must have devices...
Memphis, TN (PRWEB) May 29, 2012
8G Electronics proudly introduces the USB Sock-IT. The USB Sock-IT is the only U.S. Patented/UL Listed Combination Outlet/USB Charger for its unique ability to shut off when rechargeable device batteries are fully charged. Designed for the home builder/renovator, electrical contractors and homeowners, the USB Sock-IT answers the global phone maker's decision eliminating plug-in adapters for USB to Micro USB cord charging.
Features:

Dual outlet and dual USB ports.
10 watt/2 amp output charges electronic devices including the iPad® while still in use.
USB doors open and power the USB ports. When the battery is full, it shuts off automatically preventing overcharging and wasted electricity.
http://usbsockit.com
For more information contact:
Mark Provo
North American Sales
1.812.430.4849
mark(at)8gelectronics(dot)com
iPad® is a registered trademark of Apple, Inc.