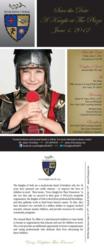 "Every Knight for Their Tomorrow"
New York, NY (PRWEB) May 29, 2012
The Knights of York will be honoring two very dedicated individuals in their proactive efforts against autism and other childhood disease. Please join them on June 1st at the Plaza Hotel in crediting these admirable individuals for all of their hard work in improving the lives of children with these challenging disorders. Donations and raffle proceeds from the event will benefit The New York Child Learning Institute, The Grace Foundation a well as many other children's charities.
Michael Lanza, a local Staten Islander has been serving the community for many years. He and his father Anthony operate Colonial Funeral Home in Staten Island, as well as many other funeral homes in the NYC area. As the vice chair and fundraising chair of the Grace Foundation of New York, Michael has generated a record number of donations for last year's annual gala. The Grace Foundation has remained especially close to Michael's heart ever since his youngest son, Anthony, was diagnosed with autism at the age of two. Anthony, now eleven, is thriving thanks to the loving care, and positive motivation from family, teachers and friends. Michael also supports the Scleroderma Society, Alzheimer's Foundation, Meals on Wheels, Project Hospitality, Eden II, and little leagues of Staten Island, Great Kills, and Verrazano. Also, he supports the FDNY, NYPD and many veteran groups in addition to serving as a member of the Community Board 2 in Staten Island.
Susan Vener, Ph.D., S.A.S, serves as the Director/Principal of the New York Child Learning Institute, also known as NYCLI. At NYCLI, Dr. Vener and her staff have designed a system based off of current research findings on teaching and treatment methodologies in helping children with autism. Through one-on-one sessions, each child's needs are met in areas such as language development, socialization, academics, and independence. The importance of family involvement, as well as friendship and teamwork is stressed in NYCLI's curriculum. Dr. Vener's extensive research and work in learning and behavior analysis has helped NYCLI become the successful institute it is today.
Jim Watkins, longtime New York TV news personality and a longtime advocate of autism education will be serving as the gala's Master of Ceremonies. Jim is a three time Emmy Winner for Best News Cast during his fifteen-year career with both WPIX and WNBC. When his son Liam was diagnosed with autism in 1999, Jim became devoted to educating the public of the issues affecting the autism community. Both he and his wife, Lauren, founded and host "Autism Awareness Day at Citi field," which raises significant funds exclusively for autism education and training programs. It is because of his involvement with many autism initiatives such as The New York Center for Autism, Special Olympics, AHRC-Manhattan, ARC Westchester, as well as his support of the Ronald McDonald House, The Bone Marrow Transplant Project and Principal For a Day that Jim has been welcomed to serve as the Master of Ceremonies, as well as being honored at last years Gala.
Dr. Joan Fallon, CEO of Curemark, will conduct the auction for the night. Dr Fallon has spent years researching autism and related disorders. Dr. Fallon's discovery of a biomarker for autism and ADHD and her vast array of the intellectual property in the area of gastrointestinal secretory deficiencies, forms the basis of Curemark. Dr. Fallon has written numerous scholarly articles, and has lectured around the world on developmental problems in the pediatric population. She has served on the board of directors of the ICA and Kentuckiana Children's Center. Dr. Fallon was one of the first physicians of any type to enter Romania and to help determine the state of the Romanian orphanages as an emissary of the US government. She has written two children's books and a book on the New York Yankees, which was handed out by Derek Jeter at his 2006 TURN2 Foundation dinner.
Some of the gifts and prizes to be awarded at the Gala through both live and silent auctions include four field level box seat tickets to a New York Mets game, a cooking class for two on making gnocchi and fresh mozzarella at Aleo restaurant in NYC, a relaxing getaway to the charming Villas in Manciano, Italy, and many more.
The Knights of York is a 501 (c)(3) organization comprised of businessmen who have dedicated themselves to improving the lives of children in need. For 16 years, the Knights have generously donated their time and money to support causes they believe in, and to honor others who do the same. The money raised from the event will go directly to the local organizations mentioned above. Join the Knights as they pursue their motto, "Every Knight for Their Tomorrow."
For information about attending the fundraiser, to view the formal invitation to the event, or to send a donation, please contact Ms. Aimee Newsham at 201.485.8520, aimee(at)hoopsnj(dot)com, or visit the Website at http://www.knightsofyork.org.