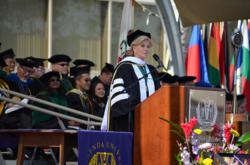 Loma Linda, CA (PRWEB) May 27, 2012
Respected broadcast journalist Joan Lunden had an emotional homecoming of sorts on Sunday, May 27, as she addressed the 2012 graduates of Loma Linda University School of Medicine, the same institution where her late father graduated 75 years ago.
The well-known former host of ABC's Good Morning America urged the new doctors to take with them the same lessons learned at the institution by her father, Dr. Erle Blunden, which was to make service a priority in their life.
"You are all here today because you have a gift," Ms. Lunden said in the keynote address to the new graduates. "Your talent and abilities as a doctor can have a tremendous impact on our world."
Ms. Lunden's father graduated from Loma Linda in 1937, and became an internationally renowned oncologist. Ms. Lunden gave a touching recollection of the special relationship she had with her father, and the tragedy that occurred in 1964, when she was in her teens, when Dr. Blunden was killed in a plane crash in Malibu canyon while returning home from speaking at a convention.
"Loma Linda is where my father discovered his passion, healing others," she told the graduates. "This is where it was impressed upon him to get involved in his community … this is where he learned not to rest on his laurels ... you will all leave today with that same foundation."
The early morning commencement ceremony, held at the lawn in front of Loma Linda University Church, was a mix of joy, laughter, tears and cheers as the 168 new doctors took to the stage to receive their diplomas.
Dr. Roger Hadley, dean of the LLU School of Medicine, sent off the new doctors by playing a video recording of faculty members sharing words of wisdom and encouragement.
The new graduates said they look forward to the next chapter of their life, even as they promise to look back to their time at Loma Linda.
"I am very thankful for today and for all the support of my friends and family," said Priscilla Chee, 26, of Moreno Valley, shortly after receiving her diploma. She will soon begin her residency as a child neurologist at Loma Linda.
Photo caption: Respected broadcast journalist Joan Lunden, during her keynote address, urges the 2012 graduates of Loma Linda University School of Medicine to "have a tremendous impact on our world."
###