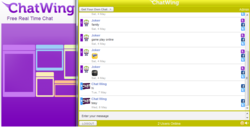 Portland, OR (PRWEB) May 27, 2012
In terms of communication, Skype is still gaining ground on a continuous basis. This is based on statistics taken from different countries. Basically, professionals have Skype accounts in order to conduct their business transactions with relative ease. Adding to that, Skype lets them connect to a large base of people within a specified time frame. A famous web chat tool can now help out Skype beginners in widening their social margins. This chat tool is known as Chatwing, and it is also gaining ground lately.
Chatwing has helped a lot of bloggers in the past months. The chat app does this by boosting the online visibility of a blog. Since Chatwing excels in the premise of website chat, it has generated a lot of sign-ups from many areas across the globe. Chatwing, in a basic sense, transforms the blog into an active chatting lounge filled with tens and hundreds of topics to begin with. "Chatwing is intended to become leverage in the cyberspace. It is meant to connect people all over the world. Since there are hundreds and thousands of websites all over the world, the Chatwing shoutbox will continue to help out bloggers in a regular basis. As for Skype beginners, Chatwing supports them wholly. Our team is working round the clock to provide efficient service for everyone," Says Ivan Diamond, a Chatwing developer and researcher.
Ease of access and installation is one of Chatwing's strong points. Installing the chat widget takes only few seconds and there are no other applications to be downloaded. To install Chatwing, the user must first register his blog's domain name. After that, he will now be prompted to modify the appearance of the widget. Synchronizing the widget appearance with the blog's theme is crucial in attracting lots of visitors. Once customization is complete, Chatwing will now generate the needed HTML code. After embedding, the widget will usually go live in just seconds.
About Chatwing.com
Chatwing.com has developed live chatrooms for websites and blogs. It caters to different online communities due to its high rate of connectivity. Everyone can create a customizable live chat feature in 1 minute or less. Users have the ability to customize the size, color, and fonts of the chat product. The ability to chat live via social media accounts such as Facebook and Twitter enable Chatwing to offer a personal and unique real-time experience to all sites. Chatwing is 100% free and very easy to use.