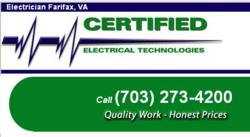 Individuals in need of an electrician in Baltimore MD should visit the company website to learn how Certified Electrical Technologies can meet their requirements
Baltimore, MD (PRWEB) May 28, 2012
Certified Electrical Technologies is a company that provides local residents with a highly skilled and experienced electrician in Baltimore MD. According to the company, who has been serving the community since 1979, they are the highest rated Baltimore electrician service.
The company believe that this is down to the 10 point checklist that highlights their dedication to customer service. This checklist, as revealed by SEO Service Group, is as follows:
1. Speak to a Human Being
A real-life human being is available to answer customer calls 24/7. During business hours an in-office electrician is also available for over-the-phone assistance.
2. Honest Prices
The company only charges for time and material that is required to complete the job in hand, and no additional fees are added.
3. No Hidden Charges for Transportation of Parts
Company trucks come stocked with all the essential electrical parts to ensure that the job can be completed at the first visit.
4. Regular Discount Offers
Currently available at the website, is a special discount that enables website visitors to save on their next call-out.
5. All Major Credit Cards Accepted
The company accept all major credit cards, as well as cash and check.
6. Customer Satisfaction
There are a number of satisfied customer testimonials available to read at the Certified Electrical Technologies website.
7. Licensed, Bonded, and Insured
The company is fully licensed and insured to carry out the range of electrical services on offer.
8. Friendly, Clean and Professional Electricians
All electricians are employees of the company and sub-contractors are not used. This ensures that a reliable, professional and friendly service is offered to all customers.
9. Walls Protected From Damage
The company work by "sneaking" wires in place to ensure that walls and furnishings are not damaged as a result of the electrical work.
10. Lifetime Guarantee
Certified Electrical Technologies offer a lifetime guarantee on all work and will work tirelessly to ensure every customer is completely satisfied with their service.
"Individuals in need of an electrician in Baltimore MD should visit the company website to learn how Certified Electrical Technologies can meet their requirements," said a company spokesperson.
About Certified Electrical Technologies:
Certified Electrical Technologies is a top rated Baltimore electrician company that has been serving the community since 1979. The company offer 24/7 telephone assistance, a free home safety inspection, free quotes, and a lifetime satisfaction guarantee.