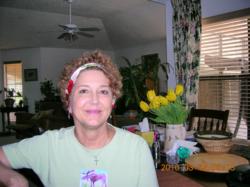 I am feeling well despite the fact that I have mets. So, why not use my time and energy in a helpful and benevolent way?
Dallas, Texas (PRWEB) May 31, 2012
June will be busy for the Sarcoma Alliance, as supporters sing in Dallas and paddle on both coasts to raise money for people with the rare cancer of bones and soft tissues.
As a cancer of connective tissues -- including muscle, fat, nerve, cartilage and blood vessels -- sarcoma can occur anywhere in the body. It can arise in all ages, from newborn on up, says Arthur Beckert, executive director of the national nonprofit based in Mill Valley, Calif., just north of San Francisco.
Sarcoma is rare, and patients often don't get to talk to each other in person, he says. That's why the Alliance helps people connect through its Facebook page, Twitter, blog, Peer-to-Peer Network, live chat room and discussion board. In addition to the information and guidance on its website, the nonprofit helps reimburse expenses for people who get a second opinion from a sarcoma specialist.
"Because sarcoma is often a misdiagnosed and, therefore, fatal cancer, early and proper diagnosis is critical for treatment success," says Aimee Spector of Redondo Beach, Calif., co-captain of the Ocean of Hope, a series of ocean races. O2H is the Alliance's biggest fundraising campaign.
This weekend, there will be two paddleboard races, she says.
The Hobie / Hennessey's U.S. Paddleboard Championships are in Dana Point, Calif., in Orange County. Waterman's Applied Science Paddle for Humanity will be in Deerfield Beach, Fla., near Boca Raton.
Waterman's named the Sarcoma Alliance an official charity partner this year. When participants register for races, they can designate their favorite charity, which will get 20 percent of their fees. Net proceeds from the events also will be divided among the charity partners.
Avid outdoorsman Steven Alan Fry of San Juan Capistrano has raced in P4H events before. This year, he read a news release like this one and discovered the Sarcoma Alliance and Ocean of Hope. Fry, who is undergoing treatment for metastatic Ewing sarcoma, attended the P4H event in nearby Dana Point in April and met Spector, co-captain Fred Sardisco and other O2H members.
"I have a lot of pain and nausea," says the entrepreneur. "But it did me a lot of good to get out in the fresh air and meet the O2H paddlers."
He is director of the HPWA(Human Powered Watercraft Association), which "represents the interests of all human powered watercraft through public education, protection of natural resources, defense and expansion of public access and general promotion of the world's most environmentally friendly and healthy form of water sports."
O2H members will compete again in the Rock 2 Rock Paddleboard + Stand Up Paddling Race on June 17, beginning from Catalina Island in Los Angeles County.
"The race, started many years ago by Joe Bark, famed paddleboard shaper, and continued by George Loren, is a qualifier for the Catalina Classic Paddleboard Marathon," Spector says. "You can race solo or in a team, traditional or stand-up. Awesome goody bags, pre- and post-race meals, a great finish-line venue and the much-anticipated Ocean of Hope raffle of a Bark board are all good reasons to attend! $5 from every competitor's race fee will be donated to the Alliance.
"I am going solo for Rock 2 Rock this year. Normally, I am a consummate outrigger-canoe paddler and only dabble in the fine art of paddleboarding when the whimsy hits me. But I might as well put R2R under my belt because all of the money I raise and the training I put into it and the time it takes is dedicated to people suffering from sarcoma that I may never meet but can help through my efforts.
"It also reminds me that ordinary people can do extraordinary things and that being grassroots connects us to people that need our help the most."
Also on June 17, the Alliance will Swing into Sarcoma at the First Unitarian Church of Dallas, with its acclaimed Jazz Combo, followed by the rock band Merry and the Mood Swings, a 2010 Grammy contender. There will be food, drink and a silent auction.
"Sarcoma survivors who can't afford tickets should contact us," says Alliance board member Suzie Siegel of Tampa, a leiomyosarcoma survivor who is helping organize the event, along with Mary Hestand, who sings in both bands, and Francoise Colley, who has metastatic leiomyosarcoma. Hestand works for University of Texas-Southwestern Medical Center in Dallas; Colley retired from there last year.
"I am feeling well despite the fact that I have mets. So, why not use my time and energy in a helpful and benevolent way?" Colley says. "Last June, my sister Martine, who had been my great cheerleader, passed away very quickly after being diagnosed with metasticized pancreatic cancer. She refused to give up hope and continued to make plans for the future. Martine's courage has given me a new life force!"
On June 23, Ocean of Hope also will have its tent, plus information on sarcoma, at New Brighton State Beach in California for the Jay Moriarity Memorial Paddleboard Race, Spector says.