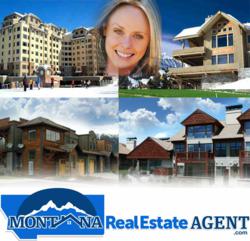 Big Sky Real Estate Market Trends Gaining National and International Buyer Attention
(PRWEB) May 27, 2012
Big Sky Montana condos have regained national and international popularity as buyers and investors rediscover a once overly-affluent market. Prior to the recession and fallout of the real estate market on a national level, Big Sky was one of the most expensive markets in the west. Big Sky is consistently ranked in the top 10 best resorts in North America and internationally for top 10 resorts in the world. MontanaRealEstateAgent.com reports that Big Sky is experiencing a rebirth of interest as one of the best values in America for a resort community with a condo-hotel unit recently selling for just $24K.
Kritanya Lambert, a licensed real estate agent in Montana, says Big Sky may still be an overlooked opportunity as Gallatin County was named as the best place in the Rockies for "healthy living and small business creation" in the recent state of the Rockies Report Card. Gallatin County is one of the fastest growing economic areas in the northern Rocky Mountains with over 100+ high-tech companies and entrepreneurs choosing lifestyle and Big Sky real estate over the fast paced cities.
Lambert says that the internet and telecommuting is affording more individuals the opportunity to live in Montana seasonally or full-time. While the most expensive sale in the past year may seem extravagant at $2,780,000 - these luxury Big Sky condos are in a location so unique with undisturbed views that buyers from back east find them a remarkable find. Buyers from New York who would pay over $10-million for a high-rise in Manhattan may find Big Sky lock-and-leave luxury units for under $1-million that dominate the overall amenities of New York properties.
Big Sky is home to two large ski resorts with a combined terrain allowing it to claim "The Biggest Skiing in America". The community has diversified itself with a 18-hole golf course, zip-line zip-line, and trails for mountain biking or hiking. Young or old, people of all ages are finding activities that not only challenge them, but enjoy the environment that enhances the activity. With an active Chamber of Commerce organizing events such as the Summer concert series "Art in the Park", Big Sky has developed into a year round experience.
With over 25 restaurants and bars, 40+ stores selling everything from groceries to clothes, jewelry, and more - Lambert says Big Sky is a self contained community. Big Sky also has a reputation for some of the best spas and fine dining in the state. Lambert has recently acquired a toll free number due to the demand of out of state buyers looking to take advantage of the Big Sky real estate market at 1-888-699-0220. Available Big Sky condos from $60K to Multi-Million dollar Big Sky homes for sale can be viewed online with images at http://www.MontanaRealEstateAgent.com