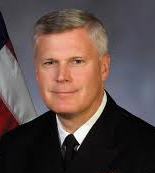 Alan Thompson's visionary thinking, seasoned perspective and proven operational logistics and supply chain expertise will be invaluable to us we establish CakeBoxx products in defense, government and commercial markets worldwide.
McLean, VA (PRWEB) May 29, 2012
CakeBoxx Technologies today announced that retired Vice Admiral Alan S. Thompson has joined the company's team of expert Advisors. Thompson, who is the former Director of the U.S. Defense Logistics Agency, will bring his significant expertise in supply chain and global logistics to CakeBoxx Technologies as the company continues to roll out its new line of patented, highly secure CakeBoxx intermodal cargo shipping containers.
"CakeBoxx is a terrific innovation in containerized commerce – it's one of those simple but elegant solutions that makes you ask 'why hasn't this been done before?'" said retired Vice Admiral Alan S. Thompson. "The CakeBoxx design delivers a powerful combination of enhanced security, cargo safety, loading efficiency and flexibility to shippers. It offers great potential to military and commercial users shipping high value, high consequence cargos to challenging operating environments," Thompson added.
Prior to his retirement from Naval service in January 2012, Thompson served as Director and Chief Executive Officer of the U.S. Defense Logistics Agency, where he was responsible for providing the Army, Navy, Air Force, Marine Corps and other federal agencies in the U.S. with a variety of logistics, acquisition and technical services. In this role Thompson oversaw a staff of 27,000 civilian and military personnel, managed annual sales of $46 billion and led logistics support for the drawdown of U.S. forces in Iraq, the largest reverse logistics operation since World War II.
During his distinguished military career, Thompson served in a number of key leadership positions both at sea and ashore. In addition to serving as the chief of the US Navy Supply Corps, he also served as Commander of the Naval Supply Systems Command (NAVSUP), Director of Supply, Ordnance and Logistics Operations Division of the Office of the Chief of Naval Operations and as Commanding Officer, Fleet and Industrial Supply Center Norfolk. Thompson was hand-picked as the first-ever Navy logistician to serve as a senior fellow for the Chief of Naval Operations Strategic Studies Group where he led a year-long study project and developed a strategic vision and roadmap for the U.S. Navy over the next 50 years, identifying new technologies and human-system integration requirements.
"We are honored to have Vice Admiral Thompson on our Advisory Board at this important juncture," said Daine Eisold, CEO of CakeBoxx Technologies. "His visionary thinking, seasoned perspective and proven operational logistics and supply chain expertise will be invaluable to us we establish CakeBoxx products in defense, government and commercial markets worldwide. CakeBoxx is all about innovation in the supply chain. Al's exceptional career of accomplishments in the Navy and Joint operational logistics domains makes him the perfect Advisor for our innovative cargo container," Eisold added.
The patented, doorless CakeBoxx container is a new, more secure, cost-effective and damage-resistant form of intermodal cargo shipping container. Instead of having doors at the back like most traditional intermodal containers, the CakeBoxx has two integrated components: a deck and a lid that is raised and lowered by all standard container handling equipment commonly used at ports and cargo-loading facilities or by a medium-sized forklift using an inexpensive spreader bar or sling attachments. Because it has no doors and provides an all-around seal, there is more usable space and cargo is kept safe, dry and secure inside the container. The design also provides superior theft prevention, streamlines Customs inspections due to its all-around visibility when opened and enables faster loading and unloading, among other advantages.
For more information, please visit: http://www.cakeboxx-technologies.com.
For investor queries please contact Daine Eisold at: daine(at)cakeboxx-technologies(dot)com or 703-869-3336.
About CakeBoxx Technologies
CakeBoxx Technologies designs, builds, markets, licenses and sells patented intermodal cargo shipping containers to the global intermodal transportation market. The company has developed a premium quality product line for high-end, high-throughput customers who want to ensure maximum safety, security and efficiency from stuffing point to end-user. The patented CakeBoxx two-piece (doorless) construction is an innovation in the container industry. It was conceived, designed and built by its inventor, Garry Whyte, to respond specifically to the evolving market pressures of decreasing margins and increasing security concerns. After five years of market research, design and product development, CakeBoxx Technologies was launched to bring the CakeBoxx doorless intermodal cargo shipping container product line to the global market.