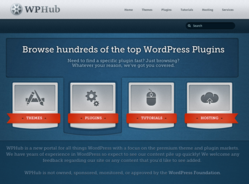 Las Vegas, NV (PRWEB) May 29, 2012
Recently, WPHub.com reached a milestone. The largest and most respected WordPress themes gallery on the internet reviewed its 600th theme. The site isn't done there, however. In fact, the theme library continues to grow week after week, month after month, and year after year. A product of Terran Marketing, WPHub.com is quickly putting itself on the WordPress map.
Searching for the perfect WordPress theme for a website among the more than 600 reviewed and listed on WPHub.com is a simple task. Users can filter themes by category, color palette, company, features, layout, price, and width. Alternately, they can toggle through each page with the click of a mouse to view all 600 WordPress themes.
WPHub.com has reviewed themes that fit an assortment of budgets and styles. Don't have a dime to spend? If that's the case, WPHub.com has reviewed more than 20 free WordPress themes. Want to go all-out? Fifty-four WordPress themes are priced at over $75. Features including built-in SEO, developer licenses, dropdown menus, shortcodes, sliders, and social media are all highlighted, where applicable, in WPHub.com's theme reviews.
Reviews of themes from companies like Elegant Themes, Studio Themes, Theme Forest, and Woo Themes can all be found on WPHub.com. Each review includes a screen shot, full written summary, pricing information, and a handy link to visit the website hosting the theme. Tags at the bottom of each review let users search for similar themes.
Themes are sectioned into a variety of website categories, including business, church, education, magazine, mobile, multimedia, news, personal blog, photography, real estate, restaurant, and retail.
WPHub.com users can rate each theme using a scale of one to five stars and seek help from WPHub.com's new "Services" section. There, site visitors can get expert help installing and configuring their WordPress themes. WPHub.com offers a "Silver" plan for those who "just need my theme installed" for $99 and a "Platinum" plan that includes installation and basic configuration for $199.
Website developers looking for "the works," consisting of advanced configuration, site security, and SEO, can sign up for WPHub.com's "Diamond" service plan for $399. Each service is valid for one WordPress theme.
WPHub.com doesn't stop at themes, however. The site also has also reviewed WordPress hosting and WordPress plugins like Backup Buddy, Gravity Forums, Scribe, Uber Menu, Wish List, and Woo Commerce. Each plugin listing comes complete with multiple screen shots and a link to purchase. WPHub.com also houses various tutorials and hosting service reviews to turn anyone into a WordPress guru.
Visit WPHub.com for more details.
About WPHUB.COM
WPHub.com is a product of Terran Marketing and works with the top WordPress theme developers on the Web. WPHub.com is a portal for all things WordPress, with a focus on the premium theme and plug-in markets. The site has years of experience in WordPress, so expect to see its content pile up quickly.