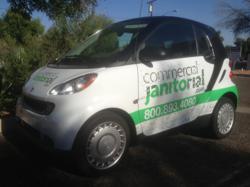 Thankfully the company providing cleaning services that night was Commercial Janitorial
Atlantic City, NJ (PRWEB) May 28, 2012
When the number one best selling recording artist of the last decade and the greatest rap artist of all time have a party at one of the most expensive casinos in the World, it's probably a good idea to make sure the location is spotless. That was certainly the case when Jay-Z threw a gala bash to celebrate his wife, Beyoncé's comeback concert and the brand new Revel Resort and Casino in Atlantic City, New Jersey last Friday. Thankfully the company providing cleaning services that night was Commercial Janitorial.
Several months ago Commercial Janitorial a Phoenix based cleaning company announced a major expansion into the East Coast cleaning markets. The company which has been quickly gaining new customers since that time in a variety of vertical markets, winning contracts through its expertise in green cleaning and attention to detail. Some of the most visible customers acquired since the beginning of the year have been Atlantic City restaurant cleaning at The 2.4 Billion dollar Revel Resort and Casino. Restaurants cleaned include American Cut, Azure by Allegretti, Mussel Bar, Lugo Cucina E Vino, and O Bisto.
As one of the largest and luxurious casinos in the United States and the 2nd tallest building in New Jersey, the grand opening weekend has been a widely anticipated event coinciding with a 4 date Memorial day weekend concert performances by Beyoncé. The multi-Grammy award winning music and film star's concert was kicked off with a pre-party hosted at Azure by her husband hip hop legend and Grammy Award winning artist in his own right, Jay-Z. Stars that were in attendance included Lenny Kravitz, Bam Magera and Lil' Wayne. The concert later that night was attended by First Lady Michelle Obama and her daughters.
"It's been a blessing to see everyone's hard work rewarded with such a profile event going off so smoothly," company President Ryan Stark said. "The way Azure looked that night before and after is a testament to a combined effort of many people from management to floor cleaning staff." The company has been gaining market share by providing office cleaning in New York, Philadelphia and Washington DC area and has done so organically without franchising or licensing its brand. "We do things a bit differently, we're focused on green cleaning and low cost in ways other companies just use as a gimmick, so maintaining the brand is important to us."
For more information visit the company's website at http://www.commercialjanitorial.com