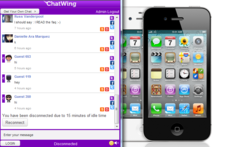 Los Angeles, CA (PRWEB) May 28, 2012
Iphone users have been hanging out in a globally efficient chat application known as Chatwing. This is because of Chatwing's classy look and maximum communication potential offered to everyone. The Chatwing research team has noted that Iphone users are discussing things such as games, apps, and other trending stuff. This makes Chatwing a competitive shout box in the cyberspace.
Chatwing has many notable features that have contributed to its stable ranking. One of these features is Facebook integration. With this, Chatwing users can now log in with their Facebook accounts, making profile information exchange a lot easier. This feature has helped a lot of entrepreneurs who rely a lot on Facebook when it comes to soft marketing process. Other than that, Chatwing users can also log in with their Twitter accounts. This option has helped a lot of users gather more followers in Twitter.
People can also tinker with Chatwing's wide array of emoticons and avatar displays. These embellishments make any topic or discussion in the chat box more interesting. The latest version of Chatwing can accommodate up to 600 chatters in real time. This simply means that a user has the chance to make a lot of friends within a specified chatting time. For Iphone users, this is an opportunity to discuss useful applications and even some important download links. Iphone game walkthroughs are also common in Chatwing chat widget discussions.
To make online communication more effective, the Chatwing development team has made the web chat app more interactive and faster. Now, the occasional lags were eliminated by nearly one hundred percent. This ensures that the users of Chatwing are getting the proper information that they truly need.
For bloggers, ease of access and installation plays a major role. Unlike other chatrooms, Chatwing can be installed in a matter of seconds. Moreover, Chatwing also offers a high rate of customization that allows bloggers to synchronize the widget according to the appearance of their blogs properly.
About Chatwing.com
Chatwing.com has developed live chat software for websites and blogs. It caters to different online communities due to its high rate of connectivity. Everyone can create a customizable live website chat feature in 1 minute or less. Users have the ability to customize the size, color, and fonts of the chat product. The ability to chat via social media accounts such as Facebook and Twitter enable Chatwing to offer a personal and unique real-time experience to all sites. Chatwing is 100% free and very easy to use.